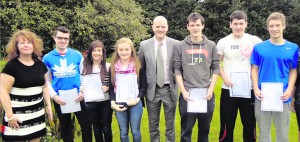 There were scenes of joy and celebration among Buttevant's Leaving Cert students, their parents and families and the entire staff of Coláiste Mhuire last Thursday morning as transcripts revealed every student had achieved their absolute potential.
From Edmond O' Neill's 8 As resulting in 615 points to 18% of our students achieving over 540 points the results were truly exceptional according to Principal Donal O'Sullivan, "Whilst we expected great things from this group, these results have far exceeded our expectations. The group as a whole have been an absolute pleasure to work with and have always been extremely hard working. We are delighted that they have done so well and they thoroughly deserve such success."
2012 statistics show the national average for over 500 points at 9.9% while 26.3% of the Coláiste's students achieved over 500 points. 40% of the Leaving Cert class achieved over 450 points against a national average of 20%. The recipe for such success according to student Edmond O'Neill who achieved a staggering 8 As in higher papers is, "great school, excellent teachers and hard work."
Last Monday morning as the CAO released its first round offers, there was more cause for celebration as a massive 60% of the group secured their first preference courses. Niall Nagle from Mallow who achieved 585 points and is heading to U.C.C. to study Biomedical Science put his success down to the Coláiste's dedicated teachers, "They were a huge help, spending many hours after school, over Christmas and mid-terms to help us achieve the best we could."
Pictured above with Principal Donal O'Sullivan and Deputy Principal Carol O'Mahony are Tom Ryan (535 points) who is heading to the University of Limerick to study Computer Games Development, Shona Cronin (560 points) who will pursue Genetics in U.C.C., Bethany Cushing (540 points) heading to Trinity College to study Radiation Therapy, Edmond O'Neill (615 points) taking up Mathematical Sciences in U.C.C., Ciarán Jones (545 points) heading to U.C.D to study Food Science and Niall Nagle (585 points) who will take up Biomedical Science in U.C.C.
The management and staff of Coláiste Mhuire, Buttevant, would like to extend congratulations to each and every one of our Leaving Certificate students and their parents who have supported their children and the Coláiste over the past number of years.