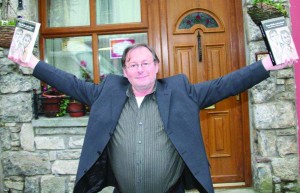 Far from 'Two Walls and a Roof', Buttevant native John Cahill returned to his home town last Saturday to sign copies of his self published book. Despite many attempts, John, who is Chief Engineer of 96FM and C103 (County Sound), only last year finally fulfilled his dream of documenting his memories of his adventurous and challenging life in Buttevant in the 1950s and '60s.
Chronicling his life and times in the North Cork town, trials and tribulations, ups and downs, family struggles and his groundbreaking electronic discoveries through countless hilarious tales, it's not surprising that 'Two Walls and a Roof' has already sold out twice.
"I simply cannot believe the amazing reaction to the book," says John. "To see a queue of people waiting for me to sign their copies outside the Orchid Café last Saturday was indescribable. To see my book on sale in O'Connor's Newsagents right across the road from where I used to live is truly a dream come true."
John's writing has been a labour of love. "Our house used to be an alleyway and was made into our home literally by adding two walls and a roof. My mother's amazing life inspired me to write the book, which I started years ago, but it never made it to the printers but I'm a big believer that everything happens for a reason and it feels that now is the right time to tell my story."
Spellchecked by his friend Laurie Rickard, the book initially went on sale through Amazon.com and as an eBook for Kindle but due to local demand for a hard copy, John decided to get the book printed for sale.
Scores of people streamed in to the Orchid Café last Saturday to congratulate and meet John as well as to get their own signed copy of 'Two Walls and a Roof'. "It was fantastic to catch up with some of the larger-than-life characters I knew as I grew up in Buttevant and put up to date faces to some of the names in the book." John's now working on adapting the book into a screenplay.