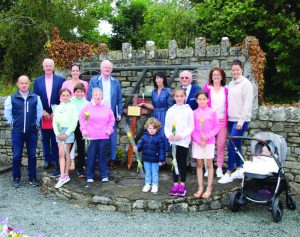 This year Mark's 41 years since the horrific train crash tragedy hit the North Cork town of Buttevant. It is an event that it is still to the fore in the memory of so many.
Each year, the Anniversary is marked at the Memorial near the Railway, which was erected in 2005, exactly 25 years since that awful day. The suggestion to mark this anniversary in a special way came from the recently deceased Canon Michael Harrington who was Parish Priest in Buttevant at the time, so a special committee was formed chaired by Tom Sheahan. Cork County Council looked after the groundwork at the site and the Memorial itself was designed by Conor Murphy of the Patternshop in Inchicore. Relatives of the deceased,both near and far were contacted and all but three of those deceased were represented by family members at what was a very touching and moving Cermony. Also present on the day was train driver, Bertie Murphy. But, for his quick actions on the day, an even greater tragedy could have occurred than the awful one it already was.
What was especially poignant at this Commemoration was that the train passing through at that time stopped as a mark of respect.
Great credit is due to so many as we also remember all who helped in any way on that fateful day, now 41 years ago. This year we also remember June Whyte RIP and Canon Harrington RIP who were integral to the Commemoration.
Bertie Murphy's family have donated a bench to the site and this was unveiled by his relatives last Friday. The plaque has now been repainted and there is a new cross at the site of the crash courtesy of Eddie O'Keeffe.
We remember all who lost their lives. Ar dheis Dé go raibh a h-ainmneacha Solis.