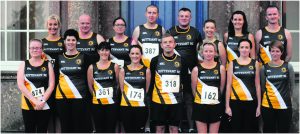 Last Friday evening the 9th September at 7pm Fr. Baker started Buttevant RCs first major running event in aid of Colaiste Mhuire's pitch fund in Doneraile Park.  The event attracted around 400 people, with at least 257 runners and well over 100 walkers.  The sun came out of hiding and quenched the torrential rains that had been constant since early morning.  As the crowd gathered, spirits were high in anticipation.  When Fr. Baker counted down and hooted the run into action, the serious runners led the way, ably directed around the park by the many stewards.   They were followed by many leisurely runners and walkers.  The buzz of chatter from the participants was infectious and was constant throughout the 5k.  The event was a fantastic success, raising over €10,000 towards the cost of the new pitch at Colaiste Mhuire, Buttevant.
This pitch is pivotal to the player development of the school community, which includes players, not only from Buttevant GAA, but also from other local clubs. Students attending the school are coming from Churchtown, Liscarroll, Ballyhea, Ballyclough, Doneraile and Mallow. Having this pitch on site means easier access for all students and the teachers that volunteer to train them and will also cut down greatly on travel time, meaning more time to train.
It will also be of huge benefit to the local community of Buttevant as an agreement is already in place between the Cork ETB and Buttevant GAA granting full use of the pitch to the GAA outside school hours. This pitch will be open to all club players for training and matches.  Considering the large numbers playing at juvenile level, this pitch will ease the pressure on the GAA pitch for training slots.
The winners of Buttevant RC's first ever event were 1st Female: Martina Kiely; 1st Male: Dave Lyons; 1st Secondary School Boy: Timmy Hennessy; 1st Secondary School Girl: Shauna Ludgate; 1st Primary School Boy: Neill O'Connell, and 1st Primary School Girl: Kathrina O'Mahony.
Appreciation and thank you to all those who so generously sponsored prizes and refreshments. A speical thank you to all our volunteers and stewards and lastly, to all the people who turned up on the night to walk or run. Thanks to everyone for your continued support and lookout for upcoming events which includes a Tractor Run on October 2nd leaving Buttevant at 12am, and Bingo in Ballyclough on October 14th and 21st.