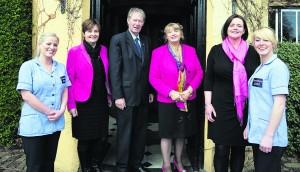 A community-based homecare provider, which has its head office in Hospital, Co. Limerick, has received the Q Mark for Quality Management Systems and has been shortlisted as a finalist in the 2013 Q Mark Awards for Quality Management Systems.
Formerly known as RCCN Caring Ltd., CareBright has provided care services to the elderly, people with disabilities and those who require specialised support in Limerick since 1998. Having started fifteen years ago as a small community voluntary group in Hospital, the organisation now employs over 250 trained carers and Care Managers with offices in Cork, Kerry and Tipperary.
CareBright provides care and specialised services for over 500 clients across Munster as well as offering healthcare training courses through the CareBright Academy. It was recently awarded the Q Mark for Overall Quality Assurance.
Carmel Fox, CEO of Ballyhoura Development Ltd. and a member of the Board of Directors of CareBright, said:"I am so delighted that we have been nominated for this award. It is something we have been working towards for the past fifteen years, achieving this award reinforces our commitment of care in the community."
Ms Noreen Kennedy, CareBright Quality Co-ordinator, said "Receiv-ing the Q Mark for Quality Management Systems provides external recognition to our staff, customers and stakeholders that CareBright is a leading quality provider in home care. This unique opportunity will help to promote and market CareBright nationally which could not have been achieved without implem-enting a working Quality Management System."
Ms Colette Ryan, General Manager, said "CareBright has successfully re-brand-ed, and obtained the Q Mark validation whilst retaining our core values and ethos."
CareBright's business ethos is to offer care through commitment, com-passion and companionship with an emphasis on the importance of living independently at home. Alongside its homecare services it also provides support for dementia care, disability care, post-operative care and chiropody services. All its carers are trained to FETAC Level 5 and its six Care Managers are registered nurses.
CareBright was formerly known as RCCN Caring Ltd. (Rural Community Care Network) and is headquartered in Hospital. It has four offices in Munster; Limerick, Kerry, Cork and North Tipperary. To find out more and watch our video visit www.carebright.ie.