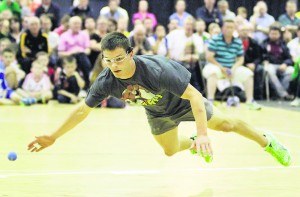 Killian Carroll from Mallow Handball Club is going from strength to strength. Killian, who captained the Irish junior team last year in Arizona at the USHA Junior Nationals, will now lead the Irish senior team to Colombia this month. Killian earned his rite of passage last week with a dazzling performance during the tournament. The late Eamonn Murphy once compared him to Ali, saying he danced like a butterfly and stung like a bee. With his gifted footwork and deadly accuracy with his hands, Killian won the Boston 40 x 20 again in April, and after only one warm-up tournament in Inis Mór in June was runner-up to Darragh Daly, who was seeded no 2 in the Nationals. In the final Killian played Paul Fitzpatrick from Cavan where he won 31-6.
In the quarter-final Killian played James Doyle from Armagh, who had won two senior one-wall titles. Killian burst into life with blistering serves and eight clean aces that Doyle could not get a glove to. Killian never relented and won 31-7. Killian sailed into the semi-final where he met another big server in Jimmy Moran from Mayo who had the home crowd behind him. In the first few minutes of the game Killian silenced the crowd, racing into 14-3 lead within 7 minutes, and he reached 31 by 15 minutes, the score being 31-2. This earned him the right to captain Ireland as his opponent in the final, Herman Mendez from Puerto Rico, playing out of New York, the world champion, was over to take his second Irish Open One Wall title. Mendez, like Killian, had won all his games under the allotted time of 20 minutes.
Killian, who had the huge crowd of 3,000 people behind him, got off to a slow start and was not as accurate as usual with the lines in his serve. Herman won the first game 15-8. Killian, now with nothing to lose, went for the second game and did not disappoint the 3,000-strong crowd, beating the world champion 15-2. It was all to play for in the final game of this long weekend as the crowd were on the edge of their seats. Could Carroll take the world champion down? Mendez, disillusioned after the second game, knew he couldn't stay with Carroll's speed, and he used all his experience and tricks to slow Carroll's momentum down. His tactics worked, breaking Carroll's concentration as he likes to play fast and furious. Mendez went on to win 11-7 in a tie-break, much to the crowd's disappointment. Mendez said he had never played an opponent who was as fast as Carroll and he was lucky to come out with the title.
Mallow Handball Club would like to wish Killian well on his journey as he takes the G.A.A. logo to South America, surely a first for the Gaelic Athletic Association!
ONE-WALL NATIONALS
With Feile over, great success has come to Mallow once again, with two teams coming home with All-Ireland silver medals in Division 1 and Division 4. It was off to Breaffy House in Co. Mayo where the One-Wall Nationals took place, and Mallow had ten juveniles playing and five adults making the journey, with over 600 players from all over the country as well as from as far away as Puerto Rico taking part. One-wall handball is being played in 42 countries at the moment including Australia and Japan, Holland, Costa Rica, Colombia and America. The game is called Wall Ball because there is already a game called handball in the Olympics. The World Games are in Colombia on 28th July with Ireland sending a team to play in front of the Olympic committee to get this game officially into the Olympics. The news is good as it became a demonstration game in the 2013 World Games this month.
But back to Mayo for the moment, as our Mallow juveniles are now playing would-be Olympic stars of the future. The rules are: because of the number of matches to be played, a time format is used. U11s to U19s play 15 minutes or first to 31. Adults play 20 minutes or first to 31 with the finals being played in the original format , two games to 15 and tie-break to 15 if the match is tied at one each. The G.A.A. has truly gone global.
In the U11s, Mallow had one player, Eric Delany. Eric is only nine and technically he has three more years as the age is determined by the American rules, 11 and under, so as long as you are not 12 before or on the day of the final you qualify. Eric played Conor Finn from Mayo and lost 31-14 but for Eric he has three more years at this age group and this year's experience will be invaluable to him.
Mallow had three players in the U13s. First on court was Eric's brother Niall Delany, who won his first game against Darragh Jordan from Roscommon 21-7 but lost to Daniel Farrelly 19-14 in the second round. He picked up an All Ireland D4 silver medal last week. Next was Conor Walsh who lost to Ciarán Cuddy 30-19, but he has another year in this age group and also won a Division 1 All Ireland silver medal and hopefully will be in it again next year.
Anthony O'Connell had a great tournament, making it to the semi-final with great wins over Jack Turley 31-2, Fionn Cusack 16-2 and Padraig McKenna 15-12 before losing to Kevin Walsh 19-14. Anthony is definitely one for the future.
In the U15A Mallow was represented by David Walsh and won his first game against Steven Smith 26-17 and lost his second game to Cathal O'Connor 20-13. David has had a great year, captaining the Mallow Feile team to All Ireland silver and winning the plate competition in Mount Talbot this year.
In U15B Darragh Moynihan was playing one-wall for the first time and in round 1 he beat Martin Mulhern 28-11 and lost to Turlough Chawke 22-10 from Tyrone who won four national titles. Darragh also had a great year reaching the All-Ireland U15 this year.
Eoin Sheehan beat Orhan Quinn 30-16 from Sligo. Eoin went on to win a cliff-hanger 19-18 against Seán Fallon, one of the games of the weekend. Eoin went on to the quarter-final, only to face a clubmate from Mallow in Tadhg O'Neill where Tadhg just came out on top on a score of 17-15.
Ryan Harkin played on the Cork minor football team this year which is his first love. With not much handball played he was a surprise at this tournament after cruising to the semi-final. He now faced Joey Varley from Dublin. Ryan took total control of this match right from the start, running out a comfortable winner 10-8 where he met Conor McElduff from Tyrone who would be a one-wall specialist and Ryan pushed all the way, and with a minute to go it was 14-14 in handball terms. But Conor's experience prevailed in the end, winning 17-14.
Tadhg O'Neill in the U15Bs had another great run in this year's nationals. In round 1 Tadhg played Michael Havern where he won 31-5 within the 15 minutes so the match was stopped. In round 2 against Evan Murphy from Broadford, the match finished 15-1 and went to tie-break which is to 5. Tadhg won this titanic battle 5-4 and played Eoghan Sheehan from Mallow. Tadhg came through this close affair 17-15. In the semi-final he played Jamie Kelly from Galway who proved too strong for Tadhg, winning 20-14. Tadhg was also in the Division 1 Feile team.
Gearóid O'Connell played in U15B against Michael Sullivan from Wicklow where he proved too strong, winning out 23-7 and in the next round met Seán Clarke from Tyrone who is a one-wall specialist. Seán took this match but not without a fight, and after 15 minutes the score was 21-15. Well done, I must say the U15B grade was very strong this year. A lot of players should have been playing in the A grade.
In the U17B grade was John O'Neill. John lost the first match to Kevin Cronin of Armagh 16-13. Nerves got the better of him in this match. Because John teamed up with Conor Noonan the loser of the match and this partnership went on to win the plate competition, winning the semi-final with a score of 14-12 and showing no sign of nerves winning the final 17-8 Mallow's first piece of silverware at the weekend.
The last of the Mallow juveniles in was Podge Buckley who is only playing for the last year and went on to win his first match 11-10. Unfortunately for Podge he picked up an ankle injury in the last 30 seconds of this match and was forced to retire for the rest of the tournament.
First of the adults for Mallow was Darren Whelan who was playing Men's C. Darren was playing Padraig Carter from Sligo and went on to win 17-13. In the second round Darren met Ken O'Neill from Mallow. Ken went on to win 15-13. Darren had a great year in the 40×20 Third Level Colleges in Kingscourt this year and was a great help during the Feile which was held in Mallow this month and no shame in losing this one as Ken went all the way to the final.
Ciarán Buckley had a nice easy start by getting a bye. Ciarán was seeded after his win last February in the Third Level Colleges in Arizona. Ciarán went on to beat Ciarán Culhane 23-4 but hurt his hand which caught up with him in the quarter-final against Evan McCory from Tyrone who progressed to the semi-finals. 16-13.
Dale Cusack was up next and also got a bye in the first round after winning an All Ireland medal in April and winning a world silver in the men's B doubles last October. Dale went on to win 17-12 against Brendan McDonagh from Roscommon. In the quarter-final Dale beat Cormac McMahon 18-11 and he now faced Ken O'Neill from Mallow. These two men are doubles partners and play for Mallow and Cork in the 60 x 30 All Ireland this year. Dale was slight favourite to win this one bit it was Ken who prevailed on the day 16-14.
Ken O'Neill, Mallow's club chairman was the surprise of the weekend at this year's Nationals and would not have entered only his kids John and Tadhg wanting to play wall-ball. In the first round Ken went on to beat Thomas O'Connor from Meath with a scoreline of 14-11. In the second round Ken beat fellow clubman Darren Whelan 15-13. Ken went on to win 16-12 against Noel McCartan from Roscommon and this set up a semi-final with Dale Cusack from Mallow where Ken won 16-14. Ken, now in the final, faced another one-wall specialist in Seán Digby from Saville in County Down. Seán had youth on his side and won the Men's C final 17-14. The second piece of silver for Mallow followed John O'Neill, Ken's son. A great tournament for both. I would like to thank Ken and Dale as they give back their knowledge and skills to the kids as coaches. Well done all.
Seamus Buckley who also played in the U15 Bs went in against Seán O'Connor from Tipperary and went on to win 13-7. In the second round Seamus went on to play Paul Sullivan from Clare and came through that match 15-14. That game took a lot out of Seamus as he played Ryan Mullen from Tyrone, who would also be a one-wall specialist. Ryan went on to take this one 15-9. Well done to all who travelled to Mayo last weekend, players, parents and coaches. Another successful week for Mallow Handball Club whose flag day is on this weekend, please support. All the club's hard work is paying off and maybe some of those younger kids will be playing in the Olympics in 2020. The hard work starts now.
FLAG DAY
Mallow handball Club will hold its annual flag day this Friday and Saturday. Please support.