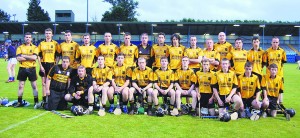 Castlemagner…………………………………………………………………………………………..0-14
Rathpeacon………………………………………………………………………………………………1-7
Castlemagner upset the odds in Pairc Ui Rinn on Saturday evening when they defeated a very fancied Rathpeacon side in the Co JBHC(1) final.
Rathpeacon had big wins in the quarter final and semi final and their overall balance and scoring ability were expected to see them take this title. However, Castlemagner took the game to their more fancied opponents from the start and with Brian Barry in great scoring form they took an early lead. Rathpeacon had the opening score by Brian Quinlan. Brian Barry with two points gave the Duhallow side the lead which they held for the rest of the hour. Further pressure saw the winners add points by Sean Falvey and Jack Cott. The city side's full forward Aidan O'Brien who had been so effective in other games was limited lacking supply. Castlemagner's Donncha Gayer was denied a certain goal by Denis Murphy. However the winners were on top in the half back line and midfield sector and led 0-8 to 0-2 at the break.
On the resumption Barry Murphy pointed an early 65. George O'Callaghan made a great run on goal for Rathpeacon but his effort went over. Sean Falvey replied for the Duhallow side. Both sides exchanged points with George O'Callaghan having the only goal of the game in the 54th minute. Aidan O'Brien pointed another free and the deficit was down to three points. When the pressure came on Castlemagner defended very well. Brian Barry had two more points for the winners who held out for a 4 point win in the end. It marked the first county title for Castlemagner in 58 years. It was the first time the JBHC(1) title was won by a club in the Duhallow Division.
Scorers: Castlemagner: Brian Barry 0-11(0-6f, 0-4 45s) Conor Murphy 0-1, Jack Cott 0-1, Sean Falvey 0-1.
Rathpeacon: Aidan O'Brien 0-5f, George O'Callaghan 1-1, Brian Quinlan 0-1.
Castlemagner: S Kerri-gan, K O'Mahony, A Lucey, D Meade, P Gayer, D O'Mahony, C O'Sulli-van, D Gayer, D J Gayer, C Murphy, S Falvey, A Morrissey, J Cott. B Barry, A Gould. Sub used: S Tobin for A Gould.
Rathpeacon: D Murphy, T Furey, S Aherne, R McGinn, P O'Neill, C Clifford, B Hallissey, B Aherne, B Quinlan, G O'Callaghan, A O'Brien, D O'Sullivan, S Teehan, R O'Riordan, B McGinn. Sub: E Leahy for S Teehan.
Referee Michael Sheedy (Shanballymore)