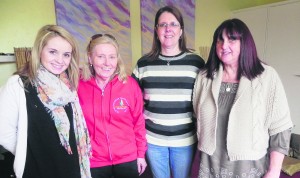 Golf Classic
There has been great interest shown in the CDYS Golf Classic which will be held in Fermoy Golf Club on Friday June 15th. Please call Karen on 086 6095545, Richard 022 53526, email golfclassic@cdys.ie or see www.cdys.ie for more details. Tee times and sponsorship opportunities are still available.
Coder Dojo Group
Volunteers are required for start up Coder Dojo Group, Mallow (teaching of computing concepts and programming languages to 12-18 year olds). Knowledge is desired but not required (some level of training will be provided), HTML, CSS, Java, Other languages will be considered including knowledge of C/C++, Java and Python. If you have some knowledge but more importantly the commitment, your help will be appreciated. If you are interested or would like to know more, a meeting will take place on Tuesday, 5th June at 7:00p.m. in the CDYS Mallow Office in Mallow Community Youth Centre. Alternatively contact either Eugene at eugeneoregan@yahoo.co.uk (086 – 3818982) or Miriam at miriam@cdys.ie (086 – 8031206) putting Coder Dojo in the subject line. For more details on Coder Dojo see http://coderdojo.com/
Rainbows
A pizza party was the highlight of the latest Rainbows group, finishing up last Wednesday at Mallow Community Youth Centre. The young people who were involved were sad to see it finish, but happy that such great friendships have been made during the 12 sessions. The parents of the young people got to see first-hand the work that went on in the session before the young people entertained the parents and facilitators with their singing and musical abilities. The day finished up with the pizza party and a fabulous cake which was brought in by one of the families. A big thank you to all who took part in Rainbows this year. Rainbows is a 12 week peer support programme for young people who have experienced a significant loss in their lives.  The aim is to support the young people in their local communities as they seek to come to terms with grief and loss.  For further information about Rainbows please contact Bernadette, Youth Ministry, CDYS on 086 8353165.
CDYS Bingo
The CDYS Bingo continues this Sunday night with a jackpot of €600 to be played for. Doors open in Mallow Community Youth Centre at 7.30pm.