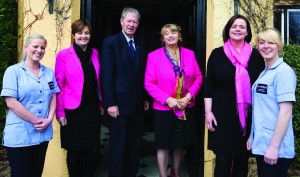 A community-based homecare provider, which has its head office in Hospital, Co. Limerick, celebrated fifteen years in business at an event in the Dunraven Arms Hotel in Adare.
CareBright, a non-profit organisation that delivers care in the community, marked its fifteenth year with the special celebration. Micheal O'Muircheartaigh was the invited guest speaker to the event where the new CareBright brand and website were unveiled.
Formerly known as RCCN Caring Ltd., CareBright has provided care services to elderly people with disabilities and those who require specialised support in Limerick since 1998. Having begun fifteen years ago as a small community voluntary group in Hospital, Co. Limerick, the organisation now employs over 250 fully trained carers and Care Managers with offices in Cork, Kerry and Tipperary.
The company is today a multi-million euro organisation providing care and specialised services for over 500 clients across Munster as well as offering healthcare training courses through the CareBright Academy. It was recently awarded the Q Mark for Overall Quality Assurance.
Speaking at the event, Colette Ryan, General Manager of CareBright, said "Today is a significant milestone for our organisation and we are very proud of how in fifteen years it has grown from a small community group in Limerick to the organisation it is today. Our new brand, CareBright, will continue to draw on the significant heritage of the Rural Community Care Network while bringing fresh thinking and new ideas to our full range of services and training programmes."
Carmel Fox, CEO of Ballyhoura Development Ltd. and a member of the Board of Directors of CareBright, said: "Providing care in the community enables those who need support to continue their lives in comfort and with dignity. The carers and managers at CareBright are trained and supported in delivering these services, offering professional solutions but with community at its core."
CareBright's business ethos is to offer care through commitment, compassion and companionship with an emphasis on the importance of living independently at home. Alongside its homecare services it also provides support for dementia care, disability care, post-operative care and chiropody services. All its carers are trained to FETAC Level 5 and its six Care Managers are registered nurses.
CareBright was formerly known as RCCN Caring Ltd. (Rural Community Care Network) and is headquartered in Hospital. It has four offices in Munster; Limerick Kerry, Cork and North Tipperary. CareBright's website is www.carebright.ie