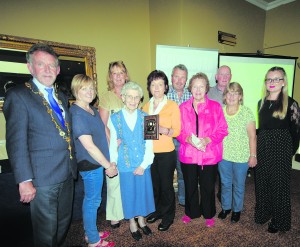 As villages all over Ballyhoura Country are preened to perfection for the arrival of another Tidy Towns' season. Tidy Towns' representatives from across Ballyhoura Country gathered to celebrate the achievements of the past year at the 23rd Annual Ballyhoura Country Tidy Towns' awards on Thursday night last, June 26th.
This year the event was held in the beautiful Castle Oaks Hotel in Castle-connell and among those named as winners were Castleconnell Tidy Towns and Hospital Tidy Towns in the overall development category. In the Built Environment, Landscaping and Wildlife category, this year's awards went to Anglesboro Tidy Towns and Liscarroll Tidy Towns while for Litter Control, Waste Minimisation, Tidiness and Residential Areas, it was Kildorrery Tidy Towns and Ballyorgan Tidy Towns that came out on top.
The evening began with an overview of the Limerick's Buzzing project by coordinator Veronica Santorum, ecologist and environmental educator. The conservation of wild bees being a very interesting element in relation to the wildlife, habitats and natural amenities category of the National Tidy Towns Competition.
Newly elected Mayor of Limerick and Ballyhoura Development Board representative, Cllr Michael Sheahan, co presented the awards with Amanda Slattery of Ballyhoura Development based on an improvement in marks from 2012 to 2013.
The awards cover all 10 categories from the National competition with an amalgamation of categories for the purpose of the Ballyhoura Country Awards. Again adju-dication reports from 2013 showed much improvement across all communities participating in the National Competition from the Ballyhoura Region. Tourism and Heritage Officer, Amanda Slattery recognised the improve-ment in marks of a great number of communities this year, reflecting the amount of hard work and dedication of all of the Tidy Towns' committees and communities across the region. In 2006, 16 groups were involved in the Tidy Towns competition from the region and 2014 again has seen a rise in entrants with 40 entrants in the National Competition from the area. Chairman of Castleconnell Tidy Towns, Vincent War-field, made a presentation to Mayor Sheahan on his first official function in Castleconnell and was congratulated on his appointment by Amanda Slattery on behalf of Ballyhoura Development and all committees present. Ballyhoura Development would like to recognise the support and help of Limerick City and County Council, The Castle Oaks Hotel and the Castleconnell Tidy Towns group who hosted the evening so superbly and also Moss Fitzgerald who photo-graphed all the winners on the evening.
Castleconnell Tidy Towns led all groups on an informative walk taking in the nature walk along the River Shannon, the bedding areas, water harvesting system by the Church, the Mick Mackey statue and of course the beautiful streetscape of Castleconnell.