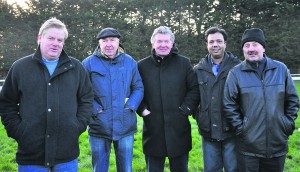 Well the dust has settled now – Go Home Hare has gone for a well deserved rest, the Mel Syndicate are still celebrating and well they may. Glin Coursing Club would first of all like to congratulate all in the group and all who helped make this great victory possible, the people who thought up the idea, the person who bought and reared the dog, that great Derry trainer and character Dessie who spoke passionately and said he will never forget the reception and welcome he got in Glin last October when he took our Dog Local. After that Go Home Hare won his Trial Stake way up North and was put away for his tilt at Classic glory. He had been a talking dog all year.
Of course all in Glin Coursing also had a second string to their bow in the form of Solid Monk, an unlucky dog all year. Unlucky that he didn't pick up a Trial Stake earlier because maybe the long season eventually caught up with him. What a proud day it was in Powerstown Park on Wednesday as we waited for the Derby semi finals and we had two dogs in the last four – sure that's what dreams are made of. Go Home Hare was first up and progressed into the final. As Eamon went to slips with Monk it was unbearable stuff. The thought of two locals fighting it out up that famous stretch for the Blue Riband of Coursing may have had many a heart under pressure, but alas it was not to be. Solid gave everything he had, but the strain of a hard season and a bad fall in the quarter final all took their toll and victory was not his lot, but as the Moloney brothers brought him back glorious in defeat they lifted out spirits and said "Lads let's get behind the "Hare" now, we know he can do it," and how right they were.
On Monday morning Go Home Hare started at 12/1 and ran a good first course, was put away for the night and stripped fresh and well on Tuesday. He won his two courses impressively but there was a scare as he seemed light on a hind leg. Solid Monk from the Moloney kennel had made it a great Tuesday as he also made it to the last 8. Leaving Clonmel on Tuesday evening it was stirring stuff, our two local dogs had them surrounded in the Derby.
Wednesday morning in the parishes of Glin / Ballyhahill it was a case of last one out lock the door. People made their way in droves to South Tipp. First there was a hiccup, an accident on the Tipp Road at Ballysimon and all had to detour, but all got there safely. The buzz, the excitement, the tension was palpable. First up "Hare". The injury scare was only a scare and Dessie, his trainer, was supremely confident and both man and dog did the business. Next up the "Monk" to the thunderous applause he delivered two locals in the last four. "Could we go all the way?!"
I don't think a local had a sandwich at the interval, maybe a trip to the bar to calm the nerves. Dessie was first into battle and the roof of the stand must have shaken as the Hare powered his way to the final. Monk then gave it everything but could not make it unfortunately.
Forty five minutes to wait, it seemed like an eternity as the clock ticked on. That man Dessie again was on his way to slips accompanied by Ger O'Callaghan from Limerick with the Drogheda dog, Blueview Sam. This was unbearable stuff, something like waiting for Rooney to take a penalty in a Champions League Final. The big cheer, the hare is on its way, the dogs are away and after 100 yards it was just one Hare after another. Blueview got injured so it was an effortless victory for the Glin dog.
I will try to describe what happened after that. In times of recession, at least for a while, everybody let go. What an evening, what a sight, what a celebration! The "Hare's" unforgettable victory meant the big one was coming west along the Shannon. The great warriors did what they always did, led by Con, prepared for the homecoming. He is an expert at it now thanks to plenty practice. He was in constant contact with the bus carrying the syndicate. The bonfire blazed at the "Pier Road", and then that moment as the mini bus came into sight and the Derby had come home to its rightful place on the banks of the Shannon once again.
Let's not forget Mossie Fenton Collins and Paddy Sheahan from Abbeyfeale who won the Bitch All Age with Portinard Nine. A great victory for two local diehard coursing people, no two deserved it more. It was also a wonderful day for Michael and Marie Field and family from Patrickswell, who won the Champion Stakes with Kyle Ranger.
So another National Coursing Meeting in Clonmel has come and gone and another classic has come to Glin. As the saying goes "Long may it continue"!