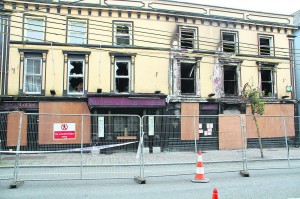 As we approach the seventh week since fire damaged the interior and exterior of the former Mallow Park Hotel, the question on everyone's lips is: how much longer will this eyesore be allowed to stand in its present condition? The fire happened in the early hours of Saturday 30th July, and 47 days later the building is still in a derelict state, with a boarded-up frontage, barriers extending halfway across the street and parking severely restricted in its vicinity, causing a serious loss of trade for local businesses.
One of the businessmen on the street, Denis McCarthy Jnr, who runs a family butcher's shop opposite the former hotel, told the Mallow Star that businesses were suffering badly due to restricted parking. "People are finding it very hard to get parking, and vans making deliveries are being double parked, causing further disruption," he said. "Country people are not coming in and are instead going to places like Kanturk to shop."
Taxi drivers are also suffering because part of their rank has been lost due to the barriers in front of the hotel, which means they cannot get a space to park and await customers.
Following the recom-mendations of a detailed report on the matter, Mallow Town Council recently agreed to proceed with a view to cleaning up the front of the structure and making it safe. The report came down against demolishing the building due to its listed status, and instead recommended giving the façade a facelift to give the appearance of an occupied building. This outcome dismayed locals, who were of the opinion that it should be dem-olished.
Mayor Dan Joe Fitzgerald has defended the council's decision, saying that it has to follow the report's recommendations. He added that the council was doing everything in its power to remedy the situation and by serving a Derelict Sites Notice and a Dangerous Structures Notice on the owner it was doing everything the law would allow. He added that the owner had until 4th October to respond to the Dangerous Structures Notice, and if a response was not forthcoming the council would seek an immediate hearing in the District Court. "Everything possible is being done," he said.
Cllr Jerry Mullally told the Mallow Star that the idea of cleaning up the front of the building was "only window-dressing". "I believe we will be looking at [the building] for a long time to come." He went on to say that the council should write to the Minister for the Envir-onment seeking to de-list the building, which would allow for its demolition. "The people want it gone," he said, adding that the public "don't understand it's not the Town Council's fault, they must follow procedure. By protecting the outer wall of the building, what do you get at the end of the day but a false front. De-listing the building is an option that should be considered," he said.