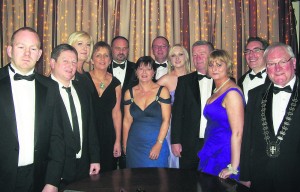 Mallow Chamber and Mallow Town Council were highly commended on Wednesday last at the Chambers Ireland Excellence in Local Government Awards in Dublin's Burlington Hotel. Mallow Town Council was the only Cork-based town council to receive a nomination in the Festival of the Year category for the 2 year old Racing Home for Easter Festival, held in Mallow each Easter Bank Holiday weekend. Chamber President Pat O'Sullivan was delighted with the nomination. "I am coming towards the end of a 2 year presidency of the Chamber and it was great to see the festival, one of the projects which we got off the ground within that timeframe, being shortlisted for a national award."
Festival chairperson and incoming Chamber President Mary Kelly feels that it's just the start of something big for Mallow. "It takes a lot of work to establish a festival in people's minds but we feel we have successfully made the connection between Easter and Mallow and I am already being contacted by people who have seen our website, heard about the craic and are booking in for 2012."
Representing Mallow Town Council on the night were Mayor of Mallow Dan Joe Fitzgerald, Cllr Willie O'Regan, Senior Engineer Aidan Weir and Town Clerk Liz Donovan. Mayor Fitzgerald said the town council's contribution to the running of the festival, such as provision of electricity, water, skips, traffic calming and diversions was one of the main reasons it was nominated. "The awards were to highlight the great achievements which can be made when Chambers and their relevant local authorities work together to benefit the entire community. The festival is a terrific addition to the town of Mallow and long may it continue."
Also representing Mallow Chamber on the evening were Denis Murphy, Festival treasurer and Sara McMahon, Festival PR.
The Chamber are now preparing for the Mallow Business Awards and Chamber Ball to be held at Springfort Hall Hotel on December 3rd next. Businesses in the town are launching their text campaigns in the various categories and the night promises to be the highlight of Mallow's social calendar.
Tickets are available from Mallow Chamber at 022 55660.