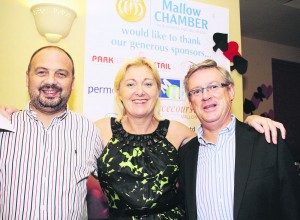 The glitz and glamour of Las Vegas came to Mallow last Friday when over 150 people attended Mallow Chamber Casino Night at the Arches Bar, for one night only and not just for high rollers! There was a terrific turnout with just under 200 tickets sold. The function room in the venue was converted into a casino with 6 blackjack and 2 roulette tables manned by professional croupiers. Each player received €1000 in chips to play with during the night and then the player left with the most money on each table went forward to compete for the top prize of €300 cash which eventually went to Maureen Kearney from Stunners Hair Design.
MC and DJ for the evening Fergal Barry kept the energy and atmosphere high in the room, issuing musical challenges to the players and rewarding them with extra chips before ensuring the dancing continued into the early hours.
Kevin O'Keeffe of the organising committee said they were thrilled with the turnout. "We've been planning the night for some time but, as always, an event is only as good as the night itself and we are really delighted that so many people have supported the concept."
The night was definitely different. Mallow Chamber President Pat O'Sullivan praised the work of the sub committee which planned the night. "It was a gamble that paid off," said Pat. "A lot of work goes into the organisation of any event and we couldn't be happier with the end result. There has been brilliant feedback already and people have really enjoyed the evening."
The money raised by the event will be ploughed back into the Chamber's marketing plan for Mallow. Incoming Chamber President Mary Kelly says that momentum is building in the town. "I want to build on the positive relationships built during Pat's time as President. It's not easy ensuring Mallow is in the headlines for all the right reasons. It has been a very positive year for the town, we have had a relatively large number of new businesses opening their doors and we want to be able to keep that momentum going."
Indeed the Chamber are heading to Dublin next month where the town's Racing Home for Easter Festival has been shortlisted for Festival of the Year by Chambers Ireland and preparations are also underway ahead of the Chamber Ball and Mallow Business Awards on December 6th.
Mallow businesses came on board to sponsor the costs of the gambling tables as well such as Cork Racecourse, Mallow, Luna Bella Boutique and Park West Flowers, TR Southern Fasteners, Ulster Bank, Mallow Primary Healthcare Centre, Maura Hunter Designs, and spot prizes were also contributed by Peppers Restaurant, Present Time, Moda Mallow and Living Beauty among others.