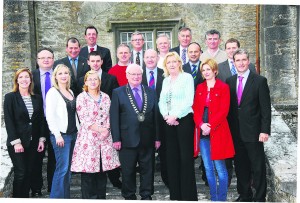 Mallow Chamber representatives highlighted a number of issues critical to the ongoing economic development of Mallow directly to the Taoiseach Enda Kenny during his visit to the town last Friday. Acting President Rory Casey presented the Taoiseach with a letter from the Chamber, outlining Mallow's potential as 'the crossroads of Munster' and an ideal location for the IDA to push for inward investment. The letter also outlined the need for a review Mallow's Hub Status which is hindering funding opportunities for the town, and highlighted the need for ongoing road networks and infrastructure around Mallow to alleviate traffic congestion through the town. The letter also outlined the failure of the HSE to fulfil promises to move into the Mallow Primary Healthcare Centre.
"We took advantage of the opportunity afforded to us by Tom Barry TD, to meet briefly at his constituency office with the Taoiseach to bring a number of long standing issues directly to his attention", said Rory Casey. "The Taoiseach was aware of the upcoming €150 million development by Dairygold in Mallow and also other large scale agricultural investment in the area by Munster AI. He was very interested in what the Chamber had to say on behalf of businesses in the town continuing to struggle with the challenges presented by the current economic environment, and Deputy Barry has also said that he will endeavour to ensure that issues concerning Mallow are brought before the relevant Minister", says Mr Casey.
Meanwhile, Mallow Castle was the venue for the most recent Mallow Chamber meeting on Monday last. Cork County Council's Louis Duffy gave Mallow Chamber directors a tour of the extensive Castle premises, bought by Cork County Council in 2009 for €1.7 million.
The Chamber feels that upcoming plans for the development of the Castle and grounds will not only bring positive attention to Mallow, but will in time, be a huge boost to the Bridge Street area of the town. Chamber President Mary Kelly said that the Castle presents huge potential for Mallow. "We felt as a Chamber that it was very important to see inside the Castle to understand the history and scale of the premises, and to be able to endorse and push Mallow Castle grounds as a venue for upcoming events to promote our town".
"Cork Institute of Technology PR and event management students were recently tasked with coming up with events using Mallow Castle as the host venue. Their diverse recommendations, from a medieval fair to a fundraising gala showcasing the best of Mallow and North Cork food producers are currently before the Chamber and Mallow Town Council", she said.