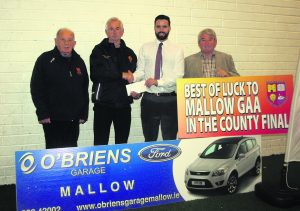 What a feeling it was last weekend at the final whistle in Coachford, knowing that club history had been made, with both our hurlers and footballers into their County Finals. Of course we are all aware that nothing has been won yet, and the next hurdles are the most important, but we can't but mention the achievement of reaching both finals. The club and town is awash with Mallow colours and excitement is at boiling point. The importance of the success, thus far, of both footballers and hurlers means so much to everyone, and the club has come together in a way not seen for many years. To put the icing on the cake after a remarkable week, our ladies footballers overcame Kanturk last Sunday evening to also book a place in a County Final. Preparations are in full swing on and off the pitch for all games, and we urge everyone to get their colours out on their homes/cars/businesses.  At this historic time in the club, we cannot forget all the men and women in the club who have gone before us who would have loved to be around at this time. Maybe in our own time we can ask for their guidance over the coming days and fly a small flag somewhere close to them. We ask you, for the coming week, to please get behind the club and get the flags flying. Magh Ealla Abu!
Intermediate Hurling County Final week
After a sixteen year wait, Mallow hurling finds itself only hours away from a County Premier Intermediate Final pairing with Kanturk this Saturday. The hurlers got together last Tuesday night, with over 40 players in attendance at training. Everyone appeared to be really enjoying the place we find ourselves in, and are relishing the 7.30pm start on Saturday. All players were in attendance, with minor injury niggles the only concerns amongst the large crowd. Meath All Ireland winning manager Sean Boylan came back to visit the hurlers on Sunday morning to offer his best wishes and some advice with all his years of experience. Coach/selector Dermot O'Riordan, manager/selector Joe Buckley and selector Tom O'Neill were all in buoyant form too, and are all ready and waiting for Saturday. We would like to wish every single player, mentor and backroom team member, along with all of their families, the very best of luck on Saturday. Don't forget, the throw-in is at 7.30pm in Pairc Ui Rinn.
Maghealla Abu!