Over the past weekend the 11th Annual Charleville 2 Day took place in charleville taking in stages around Newtownshandrum, Dromcolliher, Freemount, Kanturk and Newmarket on Saturday and Doneraile, over Ballyhoura Mountain's, Killfinnane, Ardpatrick and Killmallock on Sunday .The weather over the weekend was sunny but very windy on Saturday & Sunday for the 2 road stages, but was very wet and windy for the time trial on Sunday morning. There was an entry of 78 of the top riders went to the line on Saturday from all over the country.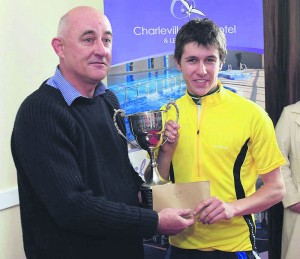 Stage 1 on Saturday started in very aggressive fashion as attacking started for the drop of the flag. Numerous riders tried to break away and even though there were five climbs over the last 40km nobody was able to escape the clutches of the main sprinters team, who wanted to keep it together, until the finish. Which they almost succeeded in doing, but Olan Barrett Fermoy c.c had other idea's attaching with 3 km to go holding on by 6sec at the line from Alan Loftus Siopa Rothair second and Barry Holian Western Lakes third. This meant that Olan went into the leader's Yellow jersey.
Stage 2 on Sunday morning's Individual Time Trial over 6.4km from Killmallock to Garienderk. The time trial is a very difficult discipline as each rider has to fight the terrain and elements as fast as possible. This is where a young 19 year old limerick boy by the name of Stephen Clancy, became a man By beating the elements and his fellow competitors in a very fast time although 20sec down on last year was still very fast considering the weather averaging 27.35mph.Stephen was last year's winner of the Junior category in this race riding for the National Team. Olan Barrett the previous stage winner and leader fought valiantly but conceded 8.5sec to lose his jersey by 3secto Stephen.
So to the final Stage 3 Mountain stage with 25 riders still within 59sec of Stephen Clancy. The race started outside campus service station on the cork rd and before they reached Ballyhea Alan Loftus, Pat Ahern St Finbarr's and Damien Travers Dungarvan cc had broken away to be joined by 6 others rider by Doneraile. This group rode well together to reach a maximum gap of 1m25sec by the time they got to the bottom of the Mountain on the main Mallow/Killdorrey road. This is where the yellow jersey wearer to control and went to the front and totally split the remaining bunch of  60 riders to pieces taking only three riders with him to bridge the gap to the leaders just before the top and cresting it in front. Speeds of 75km were reached on the decent with riders in front trying to stay away and riders behind trying to catch up. By the time the leading group of 13 riders got to the bottom of the final climb of race a very steep 2km of Ballyorgan. The race was split by over 2 minutes. With the leader fighting to consolidate his lead and his breakaway companions fighting for the stage win. This group was never going to be caught no matter how hard the remaining riders tried. So the race came down to a group sprint, Which was won by Stephen Butler DMG from the eternal second Alan Loftus, Martin Culhane Comeragh cc third and the yellow jersey of Stephan Clancy Limerick cc coming a jubilant fourth.
So it only leaves me now to thank our sponsors: Austin O'Malley, Bridget's Discount Store, Killmallock Cycle Store, The Four Winds, Stephen McKeogh Motors, Amber Service Station, Sherry Fitzgerald & Walsh, Biggane's Auctioneers and O'Riordans Garden sheds and furniture. We the Kanturk Cycling Club would also like to thank all our many volunteers, motorbike marshals and officials, Killmallock Cycling Club and Cork Motor Club. Our local Killmallock, Charleville and Kanturk County Council's and our local Gardai under Seargent Tom Moore, Mallow Civil Defense. A special mention to all motorists who were very patient and courteous with any delays. All that is left for me to say is a Big Thank You and see you all in 2012.