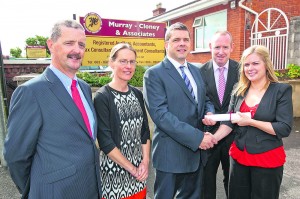 Charleville accounting firm, Murray, Cloney and Associates have received multiple awards from international body of accountants, ACCA (Association of Chartered Certified Accountants). ACCA has renewed the ACCA Quality Checked award for the practice and two Murray, Cloney staff members have been awarded prizes in their ACCA accounting exams. Charleville native, Elaine Barrett, passed her final ACCA exam in the June 2013 sitting and achieved joint 1st place in Ireland overall in the five professional level papers combined. Elaine also came 3rd in Ireland in the Advanced Taxation paper. A second Murray, Cloney and Associates employee, Jitka Pechancová, originally from the Czech Republic and now living in Limerick, came 2nd in Ireland in Corporate and Business Law and 3rd in Ireland in Performance Management and Taxation exams.
Michael Murray, the partner with responsibility for the Mallow office, said "We are very proud to have two very high achievers in our firm and to have our service quality standards recognised at the highest standards and are particularly pleased at being the only firm in the region with the coveted ACCA quality mark."
Paul Cloney, the partner with responsibility for the Kilmallock office, added: "I feel that what we have achieved as a team is fantastic. The exam results reflect the emphasis on quality in the firm. Elaine is focusing on tax and already her services are in high demand. Jitka is heading into her final exams this year and we have high hopes for her matching her colleague's performance."
Paul Cloney added, "Since opening our office in Charleville Business Centre we have concentrated on customer service and value for money. Especially in the current environment, we don't think it is good enough to process a tax return for a client and leave it at that. We want to help clients arrange their business affairs and their tax affairs in an efficient way and plan for the future." Murray, Cloney and Associates, is headquartered in Old Cork Road, Charleville. The firm has branch offices at Kilmallock Retail Park, Lord Edward Street, Kilmallock, and Courthouse Chambers, Mallow.