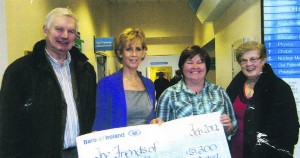 Christmas run 2011
The club had two successful runs over the Christmas season, our Christmas car run on 27th December and our tractor run on 2nd January. Both started from Colmanswell Community Centre. Unlike the previous year, the weather this time was in our favour. We had about 30 cars and 20 tractors. Thanks to all who took part and to the committee of the community centre in Colmanswell for their hospitality and the lovely tea and Christmas cake.
Quiz night
We held a quiz night in aid of St. Luke's Hospital, Dublin, on Friday 10th February as one of our members is attending there for treatment. We had a great turnout, and we thank all who bought tables, donated money or spot prizes for the raffle or supported the event in any way. Pat Sheehy set the questions again but made them a little easier this time than at our previous quiz night last year. We had willing young helpers assisting Pat collecting the papers and scoring the answers. The pupils of Bulgaden held a uniform-free day to raise money for the cause, and we thank them too. Keltec Engineering and members of the G.A.A. helped sell tables. Thanks too to Charleville Golf Club for the use of their facilities and for providing the finger food. €5,300 was collected for this worthy cause. Well done to all.
Tractor run on 4th March
We held our annual spring tractor run on Sunday 4th March starting from Canon Hayes Memorial Hall in Effin. Once again we had a good turnout despite the weather being on the showery side. In fact we experienced all sorts of weather on our run, with wind, rain, hailstones and sunshine, and a picturesque view of snow on the Ballyhoura. Those hardy tractor drivers with no cabs to shelter them had well earned the delicious soup that was served to us in the Greenwood Inn in Ardpatrick. Many drivers of modern tractors have never experienced how cold it can get on a wintry day driving a vintage tractor that never knew what a cab looked like. Thanks to all who took part in the run, to Dom for planning the route, to the stewards and to everyone who helped on the day.
Money raised for charities in 2011
During the year the club raised the following amounts for charities:
St Joseph's Foundation, Charleville, €2,050
Friends of Mallow Hospital, €2,050
Cheshire Home, Rathfred-agh, €1,000
Marymount Hospice, Cork, €700
Dunmanway Suite, Cork, €3,250
University Hospital, €3,150
St. Luke's Hospital, Dublin, €5,300.
Thanks to you all for supporting us during the year and to the Vale Star and local radio for their loyal coverage of our events.
Events planned for 2012
Our next car run is the spring run which will be held on Sunday 15th April starting from St Joseph's Foundation, Charleville. Further details will follow.
The next tractor run is on Sunday 20th May starting from Roche's garage, Kilmallock.
Our monthly meetings are held as usual in Effin hall on the second Thursday of the month. New members are always welcome.