CHARLEVILLE ARE OFFICIALLY CROWNED COUNTY PREMIER JAHC CHAMPIONS
By Paddy Ryan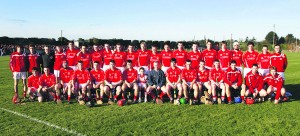 Charleville……………………………………………………………………………………………………………..2-12
Kildorrery………………………………………………………………………………………………………………0-10
All the uncertainty of the North Cork and Cork JHC campaigns came to a finish on Sunday in splendid conditions in Buttevant when Charleville overcame Kildorrery in the delayed North Cork Premier JHC final.
A crowd of over 4,000 packed the Fr Con Buckley Park for a final that had two cups at stake, the North Cork and the Co JHC cup. It was a game of tension rather than a classic but played in a very sporting manner. Early exchanges were close with Kildorrery having some bad wides from scorable positions. They used Noel Dunne as an extra wing forward, which resulted in Alan Dennehy being the spare man in the full back line for the winners.
Kildorrery had the opening score, a point by Peter O'Brien after 3 minutes.Charleville levelled soon after when a foul on Alan O'Connor produced a pointed free by James O'Brien. There was a nervous period for both sides resulting in a number of wides. James Casey did very well for the Rathluirc side at midfield and he struck a fine point in the 12th minute. It took till the 22nd minute for the next score, a well taken point by Peter O'Brien 0-2 each. By this stage Kildorrery had seven wides to Charleville's six. Peter O'Brien gave the 'Hill' the lead again. The puckout by Cyrian Curtin was gathered by Mervyn Gammell who placed Alan O'Connor who was brought down. James O'Brien levelled from the free. Kildorrery got to grips in the half back line and midfield sectors and finished the half very strong. Peter O'Brien put Tom Monaghan through on goal but Cyrian Curtin saved well to his right. It was a missed chance for Kildorrery and a huge let off for Charleville who were under severe pressure at this stage. Finbarr Stapleton and Dave Kelly worked well for Stapleton to send over a great point from a tight angle. Peter O'Brien added a pointed free. Charleville were wide from a free in the closing moments, and Kildorrery led 0-5 to 0-3 at the interval after striking nine wides to Charleville's seven.
For the second half Kildorrery introduced Liam Kelly at midfield for the injured Jerry McCarthy. Charleville were lucky not to concede an early goal when Cyrian Curtin's hand pass to Colm O'Flynn was intercepted by Peter O'Brien who struck over: 0-6 to 0-3. Both sides were wide before James O'Brien had a very good point to keep the Rathluirc side in the hunt. They gradually got into the game and when Mervyn Gammell put James O'Brien through just a point separated the sides. Charleville made some master switches. They moved Mervyn Gammell to full forward with Alan O'Connor going to the wing. Colm O'Flynn was sent to midfield with his brother Danny going to centre back. From here on it was all Charleville. They forced level with a James O'Brien free and Gavin Kelleher gained possession from a clearance by Richie McEniry and Brendan Dennehy broke up the attack placing Gavin Kelleher on the 40 with the latter's effort finding its way to the net: 1-7 to 0-7. There was an exchange of points before Charleville had their second goal when Alan Dennehy and Mervyn Gammell worked well for James O'Brien who netted in the 50th minute 2-8 to 0-8.
Charleville were now well on top in the half back line and midfield sectors with plenty of quality ball coming into the attack. Mark Kavanagh put James Casey through for a 54th minute point Kildorrery replied with an Eamon O'Connor point after a solo run. Charleville brought on some more substitutes as James O'Brien pointed a free and Fergus O'Callaghan made it 2-11 to 0- 9. Mark Kavanagh and Shane Fitzgerald exchanged a late point with Charleville being crowned North Cork champions and official Co champions by an 8 point margin. After the game North Cork Board Chairman Christy Morrissey presented the cup to joint captains Danny O'Flynn and Claude Gough. James O'Brien was named man of the match.
Scorers for Charleville: James O'Brien 1-7 (0-5f) Gavin Kelleher 1-0, James Casey 0-2, Brendan Dennehy 0-1f, Fergus O'Callaghan 0-1, Mark Kavanagh 0-1
Kildorrery: Peter O'Brien 0- 7 (0-3f) Finbarr Stapleton 0-1, Eamon O'Connor 0-1, Shane Fitzgerald 0-1.
Charleville: Cyrian Curtin, Michael O'Flynn, Conor Fitzgerald, Alan Dennehy, Gavin Kelleher, Colm O'Flynn, Brendan Dennehy, Danny O'Flynn (capt.) James Casey, Derry Murphy, Denis O'Sullivan, Mervyn Gammell, Andrew Cagney, Alan O'Connor, James O'Brien, Subs Mark Kavanagh for Andrew Cagney, Fergus O'Callaghan for James O'Brien, Claude Gough for Derry Murphy, Barry McCarthy for Mervyn Gammell, Paul Gammell for Denis O'Sullivan.
Kildorrery: Austin Walsh, Dave Roche, Richie McEniry (capt.) Michael Lillis, Tom Monaghan, Andrew O'Brien, John Howard, Shane Fitzgerald, Jerry McCarthy, Eamon O'Connor, Peter O'Brien, Sean Kelly, David Kelly, Noel Dunne, Finbarr Stapleton. Subs: Liam Kelly for Jerry McCarthy (inj), James McEniry for Noel Dunne (inj), Lorcan McGovern for Dave Roche.
Referee Dave Copps (Ballyhea).