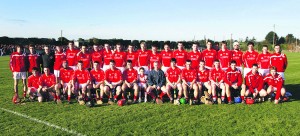 The countdown is well and truly on for Charleville hurlers as they bid for a slice of history. The town that for decades has been one of the leading lights of the Irish dairy industry is about to excel in another field, as Charleville junior hurlers are just one hour away from indelibly inscribing their name in the annals of the G.A.A.
The club which for so long has lived in the shadows of successful neighbours like Newtownshandrum, Dromina, Meelin, Bally-hea, Effin, Kilmallock and Bruree, have emerged into the sun with a string of hugely impressive per-formances that have culminated in Charleville earning the right to run onto the hallowed sod of Croke Park for an All-Ireland Final appearance.
Charleville is awash with hurling fever since the local club's young hurlers captured the North Cork title, and the county and Munster junior hurling titles for an historic first time before defeating the All-Britain champions Fullen Gaels in the semi-final to set up Saturday evening's showdown with Kilkenny and Leinster's best, St. Patrick's Bally-ragget.
For the last three weeks, the town and surrounding area has been consumed by hurling, with the red and white of Charleville displayed prominently on businesses, houses and cars. From Friday evening, the exodus from the area will begin with supporters making their way to the capital by car, bus and train. Charleville is about to be evacuated for the weekend while the expectation is that large numbers from all over North Cork and South Limerick will make the trip to Dublin to support the team that has endeared itself to so many during their glorious journey.
Manager T.J. Crowley and his backroom team have left no stone unturned in preparing a group of players who have shown enormous and admirable dedication and commitment and who are now fully focused on surmounting the final hurdle.
All trains to Dublin on Saturday will stop in Charleville, with the last train returning from the capital at 9.00p.m. Buses are also travelling and details and bookings are available from Tadhg O'Connell at O'Connell's Bar.
Tickets for the game are still available locally at Centra, Main Street and Limerick Road and at the kiosk at Dick's Supervalu, Main Street.
See the 20 page All-Ireland pull-out inside.