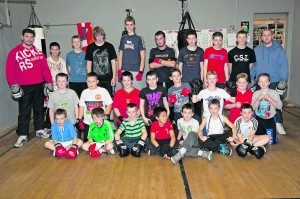 In the summer of 2012 when the country was shouting for Katie Taylor, Paddy Barnes, John Joe Nevin and Mick Conlon at the Olympics, Garda Nick Phelan considered the idea of starting a boxing club. He started sounding out the idea to people and began to receive supportive responses.
So a long process began, with great help, initially from North Cork Travellers Forum, Ballyhoura Development and Foróige who all came on board. Tommy O'Donnell showed enthusiasm for the project and brought Adam Kennedy with him, offering their services as coaches. Meetings were held, and Geraldine Lyons, Ballyhoura, and Sharon Roche, NCTF, were amazing in their assistance. Jim Walsh, secretary of the Munster Council of the Irish Amateur Boxing Association, offered advice and assistance on affiliating the new Rathluirc Boxing Club. The assistance of Charleville G.A.A. cannot be stressed enough, with Jim O'Callaghan, Mike Walsh and Matt O'Callaghan in particular with the provision of the venue for the club at their complex at Bakers Road. Local media helped publicise the venture, and after initial meetings to check interest in the proposal a committee was set up with Teresa McCarthy coming on board with expertise as treasurer. Brendan O'Donovan became chairman, and once the club was up and running Shaun Bowman became the final member of the committee as parents' representative.
In early September the club opened its doors, three nights a week, Monday, Wednesday and Friday 7.30-9pm, and it has 35 members. It has proved so successful that there is a waiting list of 12 already, as the club does not have the capacity for more. Two excellent coaches, John and Michael Culloty from Buttevant, have also come in to assist. Members vary in age from ten up to their twenties, and there are four female members. There is a code of discipline, and any breach of the rules, depending on severity, can lead to suspension or permanent exclusion from the club. Two of our members have already fought in tournaments and many more are nearly ready.
Every member of the committee and every coach is doing this voluntarily, and great credit goes to the coaches in particular giving their time three times a week. People are welcome to talk to the committee members, but any disrespect or abuse to coaches or committee members by participants or parents will not be tolerated. Fundraising will have to be undertaken to raise necessary funds to buy the necessary equipment; as a start-up club, funds are obviously low. Thanks to Conway's bar, Burnfort, who have provided a generous donation already. Hopefully in years to come we will be celebrating the successes of Charleville boxers, and many thanks to all who have helped us get to the stage we are at today.