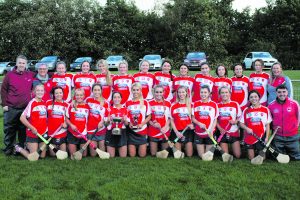 Charleville …………………………………………………….…………..2-9
Ballinora ………………………………………………………………….1-8
On Saturday last Charleville's Junior A camogie team created history by claiming their first ever Junior A county title (meaning Charleville will be playing Intermediate Camogie next year).
The intensity of this final didn't let the supporters down in that it was two great teams battling every ball, for every score. Noted before the final, Charleville came into this game as underdogs, against a strong Ballinora team who looking at match results appeared to breeze into the final.
First whistle and Charleville came out with a different pace of play, holding s alight lead at the first water break. It didn't take Ballinora to come into the game and the clashes on the ball could be felt throughout Castle Road. In the second half the skirmish for the ball continued and Ballinora netted a goal and by the first half whistle, they were up by a point.
Charleville had been a step behind in many games this year yet at each challenged have been able to switch on the pressure and shown their resolve and resilience to bounce back and steam ahead. In the second half Charleville were playing into the breeze but knowing the task in hand kept the score margin to one point. In the last 15 minutes Charleville showed this extra gear resulting in a bullet goal from Kate Liddy. The resulting Ballinora puck out ended up with the ball in Charlevilles possession and an overhead goal from an Alma Jones shot. At that stage Charleville never seemed more comfortable in their own skin, now leading by 4 points. In those dying minutes Charleville caught ever ball and fought like this was the last time they would wear this jersey! The final whistle blew and the scenes in Castle Road were emotional, both for Ballinora who devasted and Charleville whose county dream had finally come true!
It was an evenly matched game but Charleville found an extra gear down the home stretch to claim victory. Laura Doyle received the player of the match reward.
Team: S. O'Neill, S. Hudner, M. Jones, K. Dore (Captain), M. Murphy, L. Doyle, R. Jackman, A. O'Keeffe, M. Jackman, E. Murphy, K. Liddy (1-2), K. O'Reilly, T. Dore, F. Nelligan (0-5), A. Jones (1-2). Subs: S. Dennehy, E. Gammell, S. Jones, E. Morrissey, S. O'Hara, G. McCarthy, E. Breshnan.
Management and mentors: Trevor Hughes, Mark Kavanagh, Liz Gammell and Rose Jackman
Support
Charleville Junior A squad and Charleville camogie would like to thank all of the supporters who came to the County final and every other match that got us here. We really appreciate peoples time and the players could hear your support encourage-ment every step of the way!
We are also extremely grateful for the support that has been given outside of peoples time from businesses and sole members of the community. This includes sponsorship, financial, food and refreshments and parade celebrations. We will ensure that each and every one of you will get a personal thank you. We would also like to thank the Vale Star for continued media coverage.