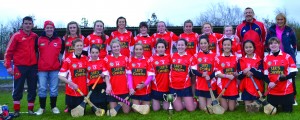 U16s are County League champions
Charleville……………….3-5
Ballyhea…………………..3-4
Charleville U16 camogie team clinched the county league title after a second dramatic encounter with neighbours Ballyhea on Saturday 1st December in Castle Road, Cork. Conditions were very good and this helped both sides contribute to a very entertaining and nail-biting finale to 2012.
Charleville had positional changes on most lines of the field and this helped them dominate the first five minutes. All efforts however in this period failed to change the scoreboard and in fact it was Ballyhea who responded to this pressure very well with two goals and a point within 15 minutes. More changes were made in this chess-like match where both teams know each other better than any two teams in the county. These changes helped Charleville and in the last ten minute of the first half Charleville bagged three goals, two from Iman O'Connell and one from Meadhbh Buckley.
Fiona McCarthy and Bea Mupada both came on at half time for Charleville, at full forward and corner forward respectively, and in 15 minutes Charleville racked up five points from Iman O'Connell and Michelle Jones. As expected Ballyhea came back to score a goal and appoint in the closing ten minute, but Charleville held out to celebrate a great victory, and Aoife Buckley lifted up the Cup to great cheers from the travelling supporters and her cousin Meadhbh Buckley picked up the Player of the Match award.
Team: Caitlin Reynolds, Chloë Collins, Aoife Buckley (capt.), Niamh Savage, Joanna Corrigan, Jade McCarthy, Ivana Lee, Miran O'Connell, Iman O'Connell 2-4, Elizabeth Moloney, Meadhbh Buck-ley 1-0, Tracy Collins, Sarah Leahy, Michelle Jones 0-1, Natalie O'Brien, Fiona McCarthy, Bea Mupada, Ciara O'Donnell. We congratulate the men-tors, Eddie O'Connell, Ray Lee, Dwaine Collins and Sandy Corrigan.