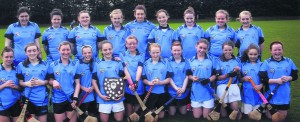 The St. Mary's first year camogie team have won the first competition of the year. Last Wednesday 29 different first year teams competed at various grades in Ballincollig, Mallow, Coachford and Glanmire. At the end of a long day, St. Mary's first years came out on top of the pile and are now regarded as the best first year team in the county!
Since late August, St. Mary's first years have been preparing for this blitz training 18 times and playing 2 challenges against the CBS Primary School boys and the 2nd year girls. The first years had a good win over the boys with scores coming from Rachel Harty 3-0, Leah Riordan 2-1, Rachel Morrissey 1-1, Mary Clare Carroll 1-0, Lorna Cagney 0-3, and Eimear Morrissey 1-0. The second challenge was against the school's second year team and the first years won by 6 points with the scores coming from Rachel Harty 3-0, Leah Riordan 2-0, Lorna Cagney 0-1, and Mary Clare Carroll 1-0. However, the second years are demanding a re-match as they were missing a few key players.
The First Year A Cork County Blitz was played at a windy and rainy Ballin-collig last Wednesday. The standard on show was extremely high and bodes well for the future of Cork underage camogie. In the first game the Charleville girls played the hosts Colaiste Choilm of Ballincollig. The first half was very even with conditions very tough for both teams. The energetic Sophie Hudner was excellent in the opening exchanges and used her athleticism to score the first goal and a point. Ballincollig replied with a goal of their own from their dangerous full forward. After this goal Sarah Shanahan upped her game and really put the shackles on their star player and her continuous blocks inspired St. Mary's. In the second half our two inside forwards Leah Riordan and Rachel Harty combined well to score a goal each to leave the full time score 3-1 to 1-0 in Charleville's favour. Others to play well in this opening game were our impressive keeper Chloe Keogh, Lorna Cagney and Eimear Morrissey.
Game 2 was against Kinsale who included a lot of the Courcey Rovers Feile winning team. Mary Clare Carroll was simply unbeatable at midfield and got great support from the talented Lorna Cagney and the skilful Emear Morr-issey. The final score in this game was again 3-1 to 1-0, with our scores coming from the oppor-tunistic Leah Riordan 2-1, and our impressive captain Rachel Harty 1-0. Noticeable in this game was the good form of the backs where Cara Fitzgerald and Rachel Morrissey really started to shine.
The next game was a chance for our subs to get a run and they played Colaiste Choilm team B. Tracey Collins, Sheila Cagney, Rosie Tuohy and Dara Daly all played really well with Tracey scoring a hand pass goal after a 30 yard solo run. The final round robin game was against our annual rivals Christ the King who have a lot of Douglas and Ballygarvan players. This game was a one sided contest and ended up 6-5 to 0-3 in St. Mary's favour. Our goals came from Leah Riordan 2-0, Rachel Harty 2-0, and Rachel Morrissey 2-0. In this game Sophie Hudner, Tanya McNamara, Aine O'Shea, Sarah Shanahan and Mary Clare Carroll all did well.
The final was against Colaiste Choilm Ballin-collig. Last year we lost twice to this school at junior level so it was about time we beat them. The first half was a real battle with only 1 point separating the teams at half time. Our opening half scores came from the hardworking Lorna Cagney 1-0 and the dangerous Leah Riordan 1-0. St. Mary's upped their game in the second half and held Ballincollig scoreless with our defence in excellent form where Sarah Shanahan, Cara Fitzgerald, Eimear Morrissey and Rachel Morrissey all did well. Mary Clare Carroll was probably player of the match and did trojan work. Others to play well were Sophie Hudner, Aine O'Shea and Tanya McNamara. Our remaining scores came from Rachel Harty 1-1, Lorna Cagney 0-1, and Rachel Morrissey 1-0. The final score was 4-2 to 1-2 in St. Mary's favour. Afterwards Rachel Harty received the plaque to the delight of her team mates. The Charleville first years now go on to play in the First Year A Cork County Champion-ship and also the Munster A Blitz later in the year. Congratulations to all the first years on what I am sure is one of many successes you will have in your time in St. Mary's.
Panel: Chloe Keogh (Ballyhea), Sarah Shana-han (Newtownshan-drum), Cara Fitzgerald (Bally-agran), Eimear Morrissey (Granagh Ballingarry) Rachel Morrissey (New-townshandrum), Lorna Cagney (Newtown-shandrum), Mary Clare Carroll (Ballyhea), Sophie Hudner (Ballyhea), Áine O'Shea (Ballyhea), Tanya McNamara (Ballyagran), Rachel Harty (Captain) (Ballyhea), Leah Riordan (Ballyagran), Sheila Cagney (Ballyagran), Tracey Collins (Charle-ville), Ciara Daly (Kilmal-lock), Rosie Tuohy (Charleville), Tara Lynch (Granagh Ballingarry), Sara Scanlon (Granagh Ballingarry), Clara Buckley (Newtown-shandrum), Siobhan Toomey (Granagh Ballin-garry), Lorna O'Leary (Ballyagran).
Seniors
The senior team have been very busy since early September. This year the seniors are captained by Newtownshandrum's Fiona Twomey and their record so far is played 3, won 2 and lost 1. The next game is a league game at home to Presentation Thurles who won last year's Munster Champion-ship and will be a good indicator of where our seniors are at.
The first game of the year saw the seniors play their annual early season challenge against Newtown U16s. This game proved to be a great exercise for both teams and was an opportunity to try out the entire panel. The full forward line of the Milford trio of Geraldine O'Connor, Katie Galvin and Louise O'Flynn was in great form scoring a combined total of 4-10, and there were other good performances from Sinead Dennehy at centre back and Elaine Crowley in midfield. The final score was 8-12 to 4-4 in St. Mary's favour. Scores came from Rebecca Connolly 3-0, Katie Galvin 3-3, Louise O'Flynn 0-4, Natalie O'Brien 1-0, Geraldine O'Connor 1-3, and Sinead Dennehy 0-1.
The first league game was away to Portumna of Galway. This again proved to be an extremely competitive game. The score at half time was 3-3 to 1-4. There were several good performances in the first half with full forward Katie Galvin, captain Fiona Twomey and 2nd year Rebecca Noonan in particular playing very well. Hardworking Grainne Hanley and full back Nicola Browne played fine games in the second half and the final score was 4-5 to 1-9 in St. Mary's favour. The scores came from Katie Galvin 1-3, Elaine Crowley 1-0, Louise O'Flynn 1-1, and Sinead Dennehy 1-1.
The seniors received an unwelcome wake up call in the second league game and were comprehensively beaten away by Borriso-leigh. Despite missing 5 regulars St. Mary's just never got going and produced a disappointing performance. One positive note was the displays of two of our younger players Rebecca Noonan and Megan Kelleher who were both excellent in the half back line. Scores came from Ciara Copse 1-0, Katie Galvin 0-1, and Geraldine O'Connor 1-0. The seniors next game is in the League against Thurles while the Munster A Senior quarter final is now only a few weeks away at home against St. Mary's Mallow, while the Cork A semi final sees us play Colaiste Choilm Ballincollig.
Panel: Fiona Twomey (Captain), (Newtown-shandrum), Louise O'Flynn (Milford), Nicola Browne (Milford), Sinead Dennehy (Charleville), Rebecca Connolly (Milford), Aoife Twohill (Newtownshandrum), Elaine Crowley (Ballyhea), Katie Galvin (Milford), Grainne Noonan (Granagh Ballingarry), Geraldine O'Connor (Milford), Grainne Hanley (Ballyhea), Sinead Mulcahy (New-castlewest), Katherina White (Ballyagran), Denise Cagney (Newtownshan-drum), Aine Bresnihan (Ballyagran), Lorna Hooper (Newtown-shandrum), Miren O'Grady (Kilmallock), Nicole O'Connor (Milford), Ciara Copse (Newtownshand-rum), Meabh Mulcahy (Newcastlewest), Natalie O'Brien (Charleville), Amanda Hanafin (Ballya-gran), Roisin Twohill (Newtownshandrum), Megan Kelleher (Bally-hea), Aisling Scully (Granagh Ballingarry), Niamh Savage (Charle-ville), Serena White (Ballyagran), Rebecca Noonan (Granagh Ballin-garry).