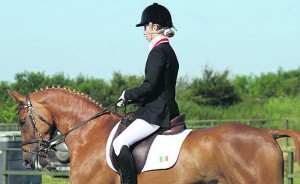 By Matt O'Callaghan
A local Charleville girl has over the last 18 months been taking the dressage circuit by storm. It has been a hectic period for 14 year old Bethany Quinn and her 7 year old pony Zorro which has culminated in her recently scooping the much coveted Silver Spurs Pony Rider Championship. Despite her having only been involved in the sport for 18 months, it has been a hectic period for the young rider. In June she won a first Junior Novice Championship at Marlton Stud in Wicklow before taking part in her first former BYRDS Home International held in Rowallan in Ayrshire, Scotland. She was placed 7th (in the top 10) in the pony novice class as an individual and her team came 8th out of 25 teams. She finished a hectic spell by winning the Silver Spurs Dressage Pony Rider Championship in August.
Dressage is just taking off in this country and while Ireland does not have the same exposure and competition experience as the other countries, Dressage Ireland entered four teams and individual riders at a recent event in Scotland.
It was at the Clonshire Equestrian Centre under the watchful eyes of Dan Foley and Tess Walsh that Bethany took her first tentative steps in the sport and from there she was introduced to Donie MacNamara who is based in Crecora, to begin her classical dressage training in December 2009. Donie's experience both as a rider and trainer for many years has helped develop the young Charleville girl as a rider and her pony Zorro, as an athlete, in achieving success so far.
SILVER
SPURS SUCCESSS
For the Silver Spurs, Bethany attended the assessment day in June held in Galway to qualify in the top 25% of riders in pony section and was invited to attend the semi-finals in August.
At the semi-finals, Bethany took the lead to claim top spot in the semi-final on her seven year old Dutch Warmblood pony Zorro scoring 110.60 points from the two judges after riding the required BYRDS rider tests. In second place was Lucy Latta with her six year old Clover Echo pony Lenamore Clover Echo scoring 107.00 points and in third place was Russell Casey with the seven year old Scottish bred Marco Polo scoring 103.10 points. All three qualified for the ride offs.
In the ride-offs, two judges scrutinise each test. This year, the senior inter-national judge was Alison Mastin Moore, with list three judge Mary Cannon taking the second judge's seat. There are three rounds in the ride off – in the first, each participant rides their own pony, and in the subsequent rounds, they swap around so that they each ride all three ponies and the judges can see how they adapt to the different animals. Scores over the three rounds are totalled to determine the final placings and all three riders are Silver Spurs winners and receive the same generous bursary from HSI but the overall winner takes home the coveted Pony Rider Champion Cup where their name goes alongside winners.
In the first round of the ride off, where all the riders rode their own pony, Bethany took a convincing lead with her pony Zorro achieving an amazing score of 78.33% from senior judge, Alison Mastin Moore and receiv-ing a 9 for her rider position and seat.
In the next two rounds, Russell and Lucy did their best to close the gap, but although they both gained ground, Bethany kept her cool and finished with just over 11 points ahead. Final scores were Bethany 404.85, Russell 393.72 and Lucy 391.64.
Following her success in the Silver Spurs, Bethany explained her rise to the top. "I first entered the pony section in 2009 when I was 12 and it was only just a couple of months after buying Zorro and although we were placed 14th just outside the 10 qualifiers, it encouraged me to find out more about dressage and to try again in 2010. When Silver Spurs qualifiers came around in 2010 when I was 13 I went to all 3 quali-fying dates, as I was determined to qualify, and on the last one which was at Spruce Lodge in Wicklow we came in 9th place and got through to the semi-finals."
Continuing she said "I went on to achieve the highest score in the semi-finals and was given 10 from the master judge from the UK for my rider position and seat even though we weren't very experienced in dressage test as Zorro was only a 6 at the time. So, when the results came out I remem-ber being so excited at being able to ride the two other top ponies, I knew I was going to have a great time no matter what the end result was. On the final's day I enjoyed the experience and the challenge at having to ride a test on the two other ponies after only sitting on them for about 5 minutes. Then when the results came out it was very tense moment because I only just lost out on 1st place by 0.4% to take 2nd place but I was so proud of Zorro only being with Donie for 6 months. When the qualifying dates for 2011 came out we were also told that the qualifying process would be different and we had to go for an assessment instead of riding the usual two dressage tests. So, I went off to Galway to my assessment with Hannah Moody where I qualified for the semi-finals and went on to win the cup and achieve my goal."
COMPETING INTERNATIONALLY
Now the young Charleville rider is turning her eyes on international competition and is not long returned from the BYRDS Under 25s Home International Dressage event held at Rowallan, Scotland.
The event attracted over 100 competitors aged between 12 and 25 from England, Scotland, Wales and Ireland making up 25 teams. Bethany and her 3 teammates Tara Oliver, Caroline Marwood and Katie Burns finished in the rosettes and in the top 10 team event took 8th place. Bethany was placed 7th in the Novice Pony Section in the top 10 event just one of 3 Irish pony team members to do so. "Although I have only had Zorro since April 2009, he was as a very green inexperienced 5 year old pony that challenged me as a rider. It has been hard at times, especially early on when he often took off without warning but my time at Clonshire Equestrian Centre with Dan Foley was inval-uable."
Bethany is also excited having brought on board a second trainer, Yvette Truesdale who is based in Northern Ireland in May of this year. Yvette is highly regarded as a top inter-national dressage rider for Ireland and has gained lots of knowledge and exposure at top level competition around the world. Accord-ing to Bethany, "I love her professional attitude as a rider and her empathy with horses. I feel confident that between Donie and Yvette, and their own unique training methods I am moving toward becoming the complete rider I would like to be for the future. My mum and dad have always taught me to be gracious in defeat and humble in victory and never to forget where you have come from and who has helped you along the way."
From this October Bethany and her pony will begin training at FEI level to qualify for the FEI Pony European Championships which take place in France in July 2012.
"Zorro and I will have to compete outside of Ireland to gain the competition exposure and experience to prepare us for the year ahead and the goal at the end of it. It would be fantastic to qualify and be given the chance to show what Zorro and I can do together as a team," she said.
But the story doesn't end there as Bethany, still only 14, had yet more great news as it was confirmed that i-Quip Equestrian want to sponsor her. This is what Deborah Bray, managing director has to say about why they chose Beth; "Bethany Quinn, Silver Spurs Pony Rider Cham-pion winner 2011 and i-Quip Ltd, producers of world class leather riding gloves, have recently forged what is hopefully to become a long and mutually beneficial sponsorship. As a new-comer to the equestrian market, i-Quip Ltd, is a company  built on the prin-ciples of excellence, quality, creativity and skill, all of which we recognise in the rising star Bethany Quinn."
"As riders we appreciate the importance of such qualities and are so keen to support and reward the hard work, commitment and tenacity required for the development of such excellence. Bethany's achievements over such an incredibly short amount of time clearly illustrates her natural intrinsic talent for this demanding sport, her uncompromising dedi-cation to the sport of dressage has been the catalyst behind amazing results so very early on in her career. i-Quip Ltd are delighted to become part of her story and to stand on the sidelines with encour-agement whilst watching such riders as Bethany rise to become future champion of this great sport." Ms Brady said.
To further the young champion's career on the saddle, Bethany and her family are appealing for sponsorship towards the purchase of a lorry to facilitate her competing in the U.K. and Europe. The aim is to purchase a lorry with full living accomm-odation and any sponsors will have their names with that of Beth emblazoned on the side of the vehicle.
The story of Bethany Quinn is truly remarkable but it is only the beginning. She is an example of what can be achieved through dedication in one's chosen sport or discipline, an example to be followed.
BETHANY QUINN AGE 14 – HER 18 MONTHS IN DRESSAGE TO SEPTEMBER 2011
• As a 12 yr old girl she bought a very green 5 year old Dutch Warmblood pony from the UK. In December 2009 she had her very first dressage lesson and took her first step in learning the art of classical dressage where she not only developed as a rider but trained and schooled her pony up through the levels with her.
•In July 2010 she won her first Preliminary Cham-pionship title in the North Munster Region (open class incl. adults) in front of a List 1 judge from the UK.
• In August 2010 she won her first Junior Preliminary Championship title in the South Munster Region with a winning score of 73% breaking the 70% test score.
• In August 2010 and with only 6 months of dressage training under her belt she qualified for the Silver Spurs finals. On the semi-final day she placed first getting 10 for her rider position and effectiveness. On the finals day in the ride-off she placed 2nd (only 0.4% behind the winner). She won €400 training bursary and free annual membership to Dressage Ireland for 2011.
• In September 2010 she won 'Best Pony' 3 days running with the top scores at the National Championships in Cavan.
• In March 2011 she placed 2nd in the Preliminary Championships (open class incl. adults) and 4th in the Under 25s' Competition at the Winter Nationals in Cavan.
• In June 2011 she won her first Junior Novice Championship title at Marlton Stud in Wicklow. Winning her first cham-pionship rug!!
• In July 2011 she took part in her first BYRDS Home International held in Rowallan, Ayrshire Scotland. She placed 7th (in the top 10) in the pony novice class as an individual and her team placed 8th (in the top 10) out of 25 teams.
• She has progressed from preliminary level through novice and onto elementary level in 18 months at 14 years old.
•In August 2011 after 18 months dressage training she won the Silver Spurs Dressage Pony Rider Champion. On the semi-final day she placed 1st and on the final day in the ride-off she won with a convincing 11% lead. She broke the 75% test score with a score of 78.33% from the master judge and getting 9 for her rider position and effectiveness. She won €400 training bursary and free annual membership to Dressage Ireland for 2012.