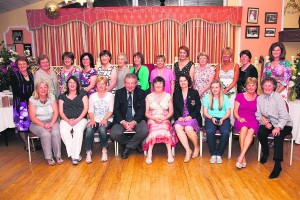 Lady Captain Marie Walsh had a very successful Lady Captain's Day on Saturday last with over 100 members playing in her competition. On Thursday and Friday the course was closed due to very heavy rain, but when Saturday morning came the sun shone and a very enjoyable day of golfing was had by all. The course was in excellent condition despite the bad weather earlier in the week.
Marie and her husband John were in the clubhouse early to greet all the contestants as they went out to play. As usual Anne Keane and Eily White were at hand to take the entries. There was a great buzz in the clubhouse all day, and in the evening the day came to a close with a very enjoyable mixed event.
The display of prizes was superb and the clubhouse was beautifully decorated with lots of fresh flower arrangements.
When it came to the prizegiving, Lady Captain Marie presented her prize to Mary Liston who had an outstanding round of golf with a score of 62. After having been presented with her prize, Mary immediately broke into song, much to the delight of the crowd.
In her speech Lady Captain Marie thanked all who had helped her in any way to organise this day, which she had really enjoyed. She said she was proud to have been chosen as Lady Captain of Charleville Golf Club and that since joining the club she had made numerous friends, and now she knew why the club is renowned for its friendliness.
Results
The winner with a magnificent score of 62 was Mary Liston. Mary is well known as a director and presenter of musicals and drama, which she does during the winter months, so it was no surprise when Mary, after receiving the prize, broke into song with the final line of Oklahoma's 'Oh what a beautiful morning', 'I've got a beautiful feeling everything's going my way.' The crowd were delighted and were even more pleased later when she sang the entire song!
A great night's entertain-ment followed which was enjoyed by all.