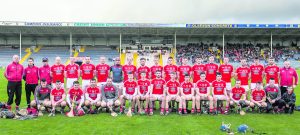 Charleville ……………………………………………………………………………………………………………………………………………………………………1-15
Graigue-Ballycallan …………………………………………………………………………………………………………………………………………………..…1-13
Charleville hurlers after the disappointment of losing the 2012 All Ireland JHC final are back in another final. On Saturday in Thurles they had a two point win over Graigue-Ballycallan in the semi final. This was a very close AIB All Ireland Intermediate Hurling semi final.
Graigue-Ballycallan opened with an early point by Aaron Brennan. Good play by Jack O'Callaghan and Andrew Cagney led to a fine point by Darragh Fitzgibbon. Fitzgibbon soloed through and gave the Avondhu side the lead. In the 8th minute Graigue-Ballycallan were level when Conor Murphy pointed a free after a foul on Billy Ryan. Conor Murphy edged the Leinster side ahead before Charleville forced level in the 11th minute when Fitzgibbon pointed a free 0-3 each. Graigue-Ballycallan were wide from a '65. Charleville again hit the front when impressive Jack O'Callaghan put Darragh Fitzgibbon in for a very good point. Kevin O'Connor added a point as the Rathluirc side moved double scores clear 0-6 to 0-3. A foul on Ger Teehan led to another pointed free by Conor Murphy. Murphy followed with a point and the lead was down to a single point 0-6 to 0-5. Charleville had a great point by Jack Doyle. In the 23rd minute Conor Murphy with a free kept his side in touch. Graigue-Ballycallan moved Conor Murphy to midfield. Ger Teehan was wide with Ciaran Hoyne saving well from Jack Doyle. A well placed puckout by Ciaran Hoyne found Eddie Brennan who was fouled and Conor Murphy levelled from the free 0-7 each. In the closing moments Graigue-Ballycallan had a point. Deep in injury time a foul on Aaron Brennan led to another pointed free by Conor Murphy as the Kilkenny side led at the break 0-9 to 0-7.
Charleville did well on the resumption. Jack O'Callaghan had an early point and they were level by the 33rd minute when a sideline cut by Darragh Fitzgibbon found Danny O'Flynn who returned to Fitzgibbon who pointed 0-9 each. Graigue-Ballycallan hit the front again when Billy Ryan placed Aaron Brennan for a point. Good play by Darren Casey led to a point by Jack O'Callaghan. Darren Casey worked well for Jack Doyle who made it 0-11 to 0-10. In the 40th minute another foul on Aaron Brennan had them level for the 7th and last time when Conor Murphy pointed the free 0-11 each. Charleville lost Darragh Fitzgibbon to a knee injury. Andrew Cagney pointed a free. The turning point came in the 46th minute when Jack Doyle soloed through and placed Andrew Cagney for a goal as the Avondhu side moved 1-12 to 0-11 clear. Ciaran Hoyne saved well from Jack O'Callaghan with Billy Ryan being denied a certain goal by Cian Collins. Good play in the 5lst minute by Ger Teehan led to a Billy Ryan point. Eddie Brennan was narrowly wide before Andrew Cagney pointed for Charleville in the 55th minute 1-13 to 0-12. Jack Doyle followed with his 3rd point. Conor Murphy pointed a free. Charleville replied when Cian Collins picked out Jack Doyle who restored the 5 point lead with just two minutes remaining. Aaron Brennan goaled in injury time. Charleville held out for a two point win and an All Ireland final meeting with Oranmore-Maree on Saturday February 9 in Croke Park.
Scorers for Charleville: Darragh Fitzgibbon 0-6 (0-2f), Andrew Cagney 1-2 (0-1f), Jack Doyle 0-4, Jack O'Callaghan 0-2, Kevin O'Connor 0-1.
Graigue-Ballycallan: C onor Murphy 0-9 (0-7f), Aaron Brennan 1-2, Billy Ryan 0-1, Sean Ryan 0-1.
Charleville: Cian Collins, Darren Butler, Jack Meade, Finbarr Cagney, Jack Buckley, Alan Dennehy, Cathal O'Carroll, Jack O'Callaghan, Kevin O'Connor, Darren Casey, Darragh Fitzgibbon, Jack Doyle, Andrew Cagney, Danny O'Flynn (capt.), Conor Buckley. Subs: Tim Hawe for Darragh Fitzgibbon 44th min. Tim Hawe for Darragh Fitzgibbon 53rd min. Mark Kavanagh for Jack Doyle, P J Copse for Darren Casey.
Graigue-Ballycallan: Ciaran Hoyne, Darragh Egan (capt.), Bob Murphy, Tommy Ronan, Conor Flynn, Eamonn Egan, James Ryall, Shane Butler, Ger Teehan, Jesse Roberts, Billy Ryan, Conor Murphy, Aaron Brennan, Eddie Brennan, Sean Ryan. Subs: Killian Egan for Conor Flynn, Vinnie Teehan for Eddie Brennan, Willie O'Connor for Conor Murphy.
Referee: Liam Gordon (Galway)