Charleville…………………………………………………………………………………………….….3-15
Cappamore……………………………………………………………………………………………….2-8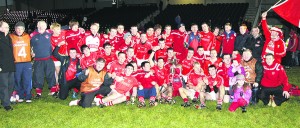 On Sunday last in Mallow Charleville junior A hurlers confirmed their position as Munster JAHC kingpins for 2011 with a well deserved win over Cappamore in a very sporting encounter before 2,594 spectators.
The Rathluirc side did not have it all their own way as Cappamore made a great comeback before half time to force level. At the break Charleville held a single point lead but their position was anything but assured at that juncture. Cappamore started well with Bill Creamer opening their account. The East Limerick side followed with a wide before Danny O'Flynn was also off target. The sides were level in the 4th minute when a great clearance by Michael O'Flynn found Derry Murphy who parted to Andrew Cagney who sent over. Cappamore were quick to regain the lead when impressive Eamon Gleeson placed Tommy O'Donoghue for a point. In the 6th minute a good delivery by James Casey led to a fine James O'Brien point. For the next 10 minutes Charleville dominated in the half back line and midfield sectors. Colm O'Flynn was out-standing. Cappamore had two wides with Alan O'Connor putting Brendan Dennehy through for a point. Danny O'Flynn soloed through on goal but was denied when Mark Treacy broke up a good attack. Charleville had their first goal soon after. It came when impressive Brendan Dennehy worked well on the flank to place the well positioned James O'Brien who rounded his man and struck the net in the 11th minute. The Rathluirc side followed with a wide but they moved five points clear when Barry McCarthy worked well on the wing to pass to James Casey who found James O'Brien and he made it 1-4 to 0-2. By the end of the first quarter Charleville were six points clear when Brendan Dennehy followed with a long range pointed free. However, from here to the break it was Cappa-more who did well. They improved greatly in the half forward line and with Tommy O'Donoghue now on the wing they came very much into the game. Charleville struck two wides before a long range free by team captain Brian Coffey found O'Donoghue who struck a well taken goal that brought his side right back into the hunt. In the 20th minute Danny O'Flynn pointed but from here to the break the Cappamore attack put the Charleville defence under constant pressure and points by Eamonn Gleeson, Tommy O'Donoghue (free) and Declan Deere had the lead down to a point after 25 minutes. They were deadlocked soon after when Eamonn Gleeson worked well for O'Donoghue who pointed. One felt that Charleville were hoping for the half time break as they had lost their shape a little. In the dying moments James O'Brien with a pointed free gave the winners an interval lead, 1-7 to 1-6.
For the second half Charleville improved immensely as they have done in most of their other games this year. Seamus Ryan levelled on the resumption. It now looked as if Charleville were going to be under great pressure. The North Cork side made a master move when they moved Gavin Kelleher to full forward with Mervyn Gammell going to centre forward and playing a very deep role. Gammell was involved in some great play that created chances for Charleville and also broke up some good Cappamore attacks. The Rathluirc side also introduced Mark Kavanagh up front and he made an immediate impact. Cyrian Curtin saved well from Mark Treacy. Mark Kavanagh was barely on the field when he took a good pass from Andrew Cagney and gave his side a lead they would not relinquish. Brendan Dennehy, with a long range delivery found James O'Brien who sent over and from here on the North Cork side could do no wrong. A good clearance by Conor Fitzgerald picked out Andrew Cagney who placed the inrushing Kavanagh and he opened up a 1-10 to 1-7 lead. Further pressure saw Derry Murphy and Andrew Cagney work hard for James O'Brien for another point. Now on a roll Charleville were in com-plete control – Derry Murphy and Kavanagh placed Mervyn Gammell for a fine point and the game was over as a contest. In the 49th minute Andrew Cagney cut in from the corner and blasted to the net, 2-12 to 1-7. John Ryan had Cappa-more's second point of this half in the 5lst minute. Further pressure by a very fit Rathluirc side led to their third goal when Mark Kavanagh and Andrew Cagney worked well with a good cross that was finished by Derry Murphy. Derry Murphy and Danny O'Flynn followed with a point each while Eamon Gleeson had a consolation goal in the 59th minute. Good work by Alan Dennehy who found James Casey who placed Mark Kavanagh for his third point and the final whistle followed. Charleville were worthy winners and now meet Fulhan Gaels in the All Ireland semi final at a Munster venue on Sunday, January 23rd. After the game Munster Council Chairman Seán Walsh presented the Munster Cup to the winning captain Danny O'Flynn.
Scorers for Charleville: James O'Brien 1-5 (0-1f), Derry Murphy 1-1, Andrew Cagney 1-1, Mark Kavanagh 0-3, Brendan Dennehy 0-2 (0-1f), Danny O'Flynn 0-2, Mervyn Gammell 0-1.
Cappamore: Tommy O'Donoghue 1-3(0-1f), Eamon Gleeson 1-1, John Ryan 0-1, Declan Deere 0-1, Seamus Ryan 0-1, Bill Creamer 0-1.
Charleville: Cyrian Cur-tin, Michael O'Flynn, Conor Fitzgerald, Alan Dennehy, Barry McCarthy, Colm O'Flynn, Brendan Dennehy, James Casey, Danny O'Flynn, Derry Murphy, Gavin Kelleher, Alan O'Connor, Andrew Cagney, Mervyn Gammell, James O'Brien, Subs Mark Kavanagh for Gavin Kelleher, P.J O'Halloran for Mervyn Gammell, Denis O'Sullivan for Michael O'Flynn, Fergus O'Callaghan for Andrew Cagney, James Foley for Danny O'Flynn.
Cappamore: Tommie Ryan, Damien Sheehan, Seamus Lane, Jack Campbell, Mark Tracey, Brian Coffey, John Ryan, Seamus Ryan, Declan Deere, Darragh O'Dwyer, Eamonn Gleeson, Bill Creamer, Andy Murphy, Conor Sheehan, Tommie O'Donoghue, Subs Liam Cronin for Dan O'Dwyer, Joseph O'Driscoll for Seamus Ryan, John Hayes for Bill Creamer, Denis Ryan for Andy Murphy, Seamus Humphreys for Jack Campbell.
Referee: Fergal Horgan (Tipperary)