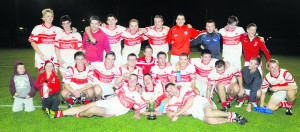 Charleville……………………………………………………………………………………..0-6
Ballinacurra………………………………………………………………………………….0-5
There was a dramatic finish to this Co JBFC final at Pairc Ui Rinn on Saturday evening as four points in the last ten minutes saw Charleville snatch victory from Ballinacurra's grasp in this year's decider.
In a low scoring encounter the North Cork side certainly created most of the running but up front they found scores very hard to come by kicking a total of 17 wides while they also missed at least two goal scoring chances over the hour. The early stages saw both teams slow to settle and in the 10th minute Ballinacurra opened the scoring when a free out of the Charleville back line was picked up by Damian Daly who in turn set up Stephen O'Brien for a well taken point. Charleville, who surged forward at every opportunity, were back on level terms at 0-1 each by the end of the first quarter when Colm O'Flynn's effort for a point dropped short with the clearance falling into the path of James O'Brien who kicked over from close range. From the kick-out Charleville gained possession in the half forward line with Mark Kavanagh getting through for a point to make it 0-2 to 0-1. Both teams continued to be off target before Charleville created the game's first goal scoring opportunity when Andrew Cagney was denied by a fine save by the Ballinacurra keeper Steve Kane. Despite the Avondhu side showing the greater urgency, the far more economical Ballinacurra outfit saw out the game in a positive manner. In the 24th minute a sweeping movement involving at least five players saw Steven Kelly set up the inrushing Damian Daly for a fine point while at the end of normal time Jake Hegarty with a point saw them hold a slender 0-3 to 0-2 interval lead.
The second half was again much the same. Charleville missed four scorable chances before Ballinacurra doubled their lead in the 42nd minute when James Nagle won a vital break at midfield and his delivery set up Jake Hegarty for a fine point. Ballinacurra enjoyed their best spell of the game at this juncture and in the 49th minute they seemed on course for victory when Jake Hegarty added another point from a free. However Charleville who were involved in a lot of tight encounters en route to the final refused to give in. They introduced substitute Darren Casey into the full forward line and he played a vital role in his sides fight-back in the last ten minutes along with Barry McCarthy, Dwane Collins, Gavin Kelleher, James O'Brien, Andrew Cagney, Mark Kavanagh and the O'Flynn brothers. In the 51st minute they got their fight-back in motion when a movement involving Dwane Collins, Danny O'Flynn, Gavin Kelleher and James O'Brien saw Andrew Cagney kick over from close range. At the other end Ballinacurra missed a chance to finish the game as a contest when a goal scoring opportunity by Jake Hegarty went inches wide. This was a let off for the Rathluirc side as they dominated matters in the last five minutes. Mark Kavanagh and Andrew Cagney with pointed frees restored parity at 0-5 each with the match winning score coming moments later when Colm O'Flynn won possession from a Ballinacurra kick-out and set up James O'Brien for the winning point despite Ballinacurra's best efforts late in the game to secure a replay. However it was Charleville who emerged victors and after the game team captain P.J. O'Halloran accepted the cup from Co Board Chairman Bob Ryan,
It was Charleville's third county final appearance in four years having lost narrowly to Kilbrin in 2010 final and to Belgooly in the 2012 decider.
Scorers for Charleville: Andrew Cagney 0-2 (0-1f), James O'Brien 0-2, Mark Kavanagh 0-2 (0-1f).
Ballinacurra: Jake Hegarty 0-3 (0-1f), Stephen O'Brien 0-1, Damien Daly 0-1.
Charleville: David O'Connell, P.J. O'Halloran, Jack Buckley, Michael O'Flynn, Dwane Collins, Barry McCarthy, Dave McCarthy, Danny O'Flynn, Shane O'Sullivan, Gavin Kelleher, Andrew Cagney, James Casey, Mark Kavanagh, Colm O'Flynn, James O'Brien, Subs Darren Casey for Shane O'Sullivan, Jason O'Hara for P.J O'Halloran.
Ballincurra: Steve Kane, David O'Riordan, Killian Hurley, Tom O'Meara, Damian Daly, Ian Cahill, Trevor Costigan, James Nagle, Brian Sigerson, Tom O'Leary, Shane Wiggins, Scott Richards, Steven Kelly, Jake Hegarty, Stephen O'Brien.
Referee: Michael O'Leary (Diarmuid O'Mathuna's)