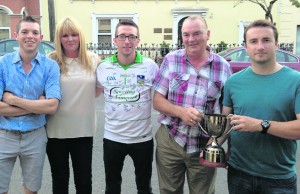 Kieran 'Maisie' Sheehan Scramble
The annual scramble for the Kieran Sheehan charity event was held on Saturday/Sunday last the 20th/21st July. We once again got great support from local businesses and publicans. The turnout of teams was also very good with around 50 teams of 3 taking part. This year the committee for the Maisie tournament decided to give the proceeds to a much needed local charitable project, this was the Liskennett Autism Project in Association with St Joseph's Foundation.
The prize winners of the trophy were Brian Barrett, Matt Gallighan and Frank Holly, in 2nd place for the second year running were Paddy McDonagh, Thomas O'Shea and Michael McDonagh, in 3rd place were Christy Lilley, Pa Wall and Pat Herbert. MVP prize went to the very popular Mike France affectionately known to all as the Duke. We also had 4 prizes for hole-in-one, these went to William Farrell, Trevor Barry, Stephen Tuohy and Dom Kavanagh.
There were also a number of prizes for the raffle which was once again done by Martin O'Connor many thanks to Martin for his continued support. Thanks to Mary Sheehan and Mike Sheehan for allowing us to host this annual event in remembrance of their son Kieran.
We would also like to say many thanks to the greens keepers of the club for the excellent condition of the course, no easy task in the hot weather.
Thank also the Colm O'Brien of the Second Wind and Tadgh O'Connell of O'Connell's Bar for the entertainment and refreshments.
We are open daily for green fees, however we do not hire out clubs anymore. We do sell second hand golf balls and tees are also available. Opening times are from 9am-8pm, anyone under 16 years must be accompanied by an adult after 6pm. We are closed this coming weekend until 2pm for green fees
The course will be closed for green fees only at 8pm from Monday night 15th July.