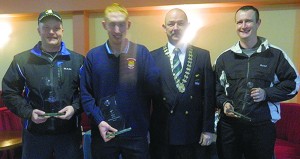 The time of year may be different and the temperature substantially lower but the PPUI Nat-ional 3 Ball Scramble still attracted the largest field for the final stages of the competition. In total 72 teams played 36 holes, on two courses Navan and Castletown, with the top 18 teams to play in the final round. Leaders Riverdale C with a two stroke lead from Charle-ville A, were looking good provided they could maintain their rate of scoring. With just the final 18 holes to be played in Navan things could not be closer.
However, our 3 lads, Patsy Tynan, Charlie McCarthy, and Brian Lenihan had other plans; they went back to Navan from Castletown having scored 10 under there, with the intention of taking the title and succeeded with another superb score of 12 under par to finish two shots ahead of the field. The final score was Charleville A 152, Cunnigar (Water-ford) 154, with Riverdale (Nenagh) in 3rd pl 155 1/3.
Many congratulations to our team for a brilliant performance.
We are open for green fees daily, weather permitting. We sell golf balls and tees. We no longer hire out clubs.
The course is closed to all each evening at 5pm.
The Chairman, Secretary and all the members in the club wish to extend their deepest sympathy to Pat Ryan and family on the recent sad loss of her husband Billy. May he rest in peace.