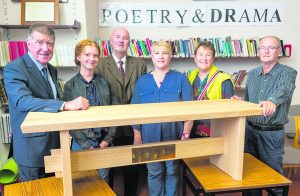 Members of Charleville Twinning Association gathered in the local library for a presentation of a beautiful timber bench, which is a gift from their twin towns of Plouaret and Le Vieuxe Marche in Brittany. The bench was presented to Brian Miller the chairman of the Charleville Twinning group by Maela Merrer, whose father Dominick, a master carpenter, made the bench with timber from a chestnut tree, the symbol of learning.
The Merrer family has been involved with the twinning arrangement between Charleville and Plouaret/Le Vieuxe Marche since its inception in 1997 and Maela's parents, Dominick and Anne Merrer have visited Charleville on many occasions during that period. In fact, Anne was among the Breton party that travelled to Charleville in May of this year.
Making the presentation Maela said her father was the best carpenter she knew and she was delighted that his work will be featured in Charleville library, which she said was the most appropriate place for the bench to placed. "This is a place of learning where knowledge is exchanged and with twinning we exchange friendship and have been doing so with the people of Charleville for the past twenty years, so our story goes back that far," she said.
Brian Miller, on behalf of Charleville Twinning Association thanked Maela and her parents for the wonderful gift and said they were delighted that it would be made use of in the library. "This is a wonderful gesture from the Merrer family and we deeply appreciate this symbol of friendship from our twin towns of Plouaret and Le Vieuxe Marche," said Mr. Miller.
Other members of the Twinning Association present were Mary Coughlan, Ian, Angie and Aoife Doyle and Michael McGrath. Cllr. Ian Doyle also added his word of thanks to Maela and the Merrer family for their beautiful gift to the town and he wished Maela, who is presently staying with Michael and Cait O'Sullivan at Colmanswell, Charleville an enjoyable stay in the area.