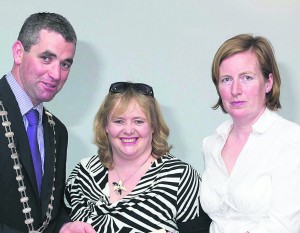 Last week was a very good week for Charleville's Tidy Towns Committee. On Monday 5th September the National Tidy Town Awards were announced. Charleville received an additional 11 points and also got very favourable remarks from the judges, especially in the area of Litter Control. The judges noted that 'Litter management on the day of adjudication was of a very high order and no black spots were noted……' In this category Charleville was awarded an additional 4 points.
Then last Thursday Charleville won an Award in the Cork County Council Anti Litter Campaign. Charleville received an award as a Valued Participant. The prize consisted of a certificate and €150. The presentations were made by Mayor of Cork County, Cllr Tim Lombard to Aileen Browne and Hazel Dixon from the Charelville Tidy Towns Committee following a reception in Cork County Hall. Speaking after the award ceremony Aileen Browne Secretary of Charleville Tidy Towns expressed her delight at the award saying that "Winning an Award in the Cork County Litter Campaign is a testament of all the hard work that has been done by the Tidy Towns Committee, local volunteers and the town traders over the past number of months in helping to keep Charelville litter free."
The Tidy Towns Committee will shortly be putting together their plans for the coming 12 months. Anyone interested in getting involved is asked to contact Aileen Browne on 086 8145716 or any Tidy Town Committee member.