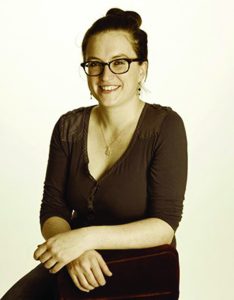 By Helen Broderick
The Susan Smith Black-burn Prize established in 1978, is the largest and oldest playwriting prize for women writing for English-speaking theatre. Named for Susan Smith Blackburn (1935–1977), the Prize is intended both as a personal tribute to Susan, who died in 1977, and as an embodiment of values she believed in and devoted so much of her life to. She had a gift for writing and a lifelong love of the theatre. The Susan Smith Blackburn Prize is awarded annually to celebrate women+ who have written works of outstanding quality for the English-speaking theatre. Women+ includes women, transgender, and non-binary playwrights. Each year, artistic directors and prominent professionals in the theatre are invited to submit plays. Each script receives multiple readings by members of an international reading committee that selects the finalists. An international panel of six judges then selects the winning play.
Ten finalists for 2023, including the only Irish woman chosen this year, Katie Holly from Cork, are chosen from a group of over 190 plays nominated from around the world.
Katie Holly is a graduate of Drama and Theatre Studies in University College Cork, where she subsequently completed a Masters in Irish Literature. Her first three plays  Marion (2016),  Sharon (2017) and Crowman (2018) premiered at Cork Midsummer Festival, and all toured regionally and/or nationally. Sharon was recorded and broadcast as a radio play on Ireland's national broadcaster RTE Radio 1 and won a New York Festival Silver Award for 'Best Digital Drama' in 2019. She was commissioned by Cork County Council to write and produce Crossword (a touring play for Bealtaine Festival 2019) and Pageant (a short play for Cork Culture Night 2020). In 2021 Katie was invited to be a participant in the Irish Theatre Institute's artist program 'Six in the Attic'. In the same year, she received a Theatre Bursary for the development of her practice and began writing 'Her Hand on the Trellis' (both of which were kindly funded by the Arts Council of Ireland and supported hugely in development by Julie Kelleher and Mermaid Arts Centre, Wicklow, as well as Sophie Motley and Everyman Theatre, Cork). In 2022 Katie was invited to be a participant in the Maven's Playwright Program, a professional development programme providing career support for female identifying writers. In 2022/2023, Katie is completing a residency in Everyman Theatre, Cork under the mentorship of Enda Walsh and as part of this residency is writing a new comedy called Blindspot, made possible by the support of the Arts Council of Ireland.
I first met Katie back in 2018 when she told me "When I was younger, quite small even, I would sketch ideas and scenes about plays and dramas. But it wasn't until I hit thirty that I began to consider writing a full play for production" she said. "I'd always had it on the back of my mind, and I'd been involved in amateur drama in Charleville with Kevin O'Shea, the artistic director of the Shoe String Theatre Company. I was acting quite consistently from about the age of seventeen" She's a talented writer, and an all-round lovely person with whom I was very impressed. Last week, I spoke to Katie again and asked her how the award selection came about. "The play was written with the support of a Project Award from the Arts Council, and as part of that I went to Mermaid Arts Centre in Wicklow to work on the play with some actors, a director, and a dramaturg.  The Artistic Director of the Mermaid Arts Centre, Julie Kelleher, asked if I would be happy for her to put the play forward for the Susan Smith Blackburn prize and I said I was.  Six months later, I got a phone call to say that I have been shortlisted and invited to New York for the ceremony. I was delighted, but more so I was relieved that having spent eighteen months writing the play, the shortlisting felt like an endorsement of the work I had put into it'.  It's a larger scale play than anything I've written before so there is a good chance it will never be produced (but the shortlisting for the prize makes it seem a little more possible)." I asked her what the award would bring to her career.
"Having it in my CV doesn't hurt I suppose!  It may help with securing funding for productions in the future.  But really, being shortlisted for the prize is also extremely helpful, as there are very successful playwrights who have been finalists." she said. Katie lives a very busy life! "Three days a week I work remotely for Centre Stage School as an administrator, and occasionally I write scripts for their classes.  I really love working for them.  The other two days are taken up with writing or planning workshops. I just finished two sets of workshops, one in Charleville with a group of seven very talented writers, and one in Cork City for Cork County Council where we wrote and recorded (as a group) a ten-episode soap opera which will be pitched to radio stations over the next few months.  I'm in a playwright programme called Mavens, for which I travel to Dublin every few weeks to meet with other playwrights to discuss plays and what we can learn from them.  I've written a second draft of a comedy called 'Blindspot' under the mentorship of Enda Walsh and as part of a residency with Everyman Theatre, Cork."
Katie intends to keep working on her comedy script 'Blindspot', and then apply for production funding for that and for 'Her Hand on the Trellis' in the next 12 to 18 months.
She was among the first group of students to graduate from drama and theatre studies at UCC in 2004. She also studied music as part of her degree. She went on to complete a Masters in Irish literature. She is a great conversa-tionalist and has a beautiful flair for writing. I've no doubt her work will continue to receive rave reviews, and her career as a successful playwright will have continued success. She is also someone who is good fun, and a laugh a minute. We parted in 2018 with the promise of catching up over a drink in the not-too-distant future. Hopefully, that will happen this year!
We wish Katie the very best of luck with her nomination and hope she'll enjoy her time in the Big Apple!