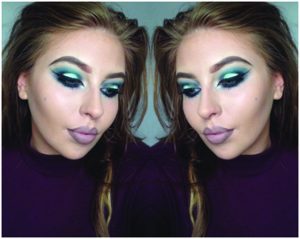 The inaugural Irish Make-Up Awards 2018 will be announced at a black-tie event will take place at the Crowne Plaza Dublin Hotel on Sunday, 15th July, and Chloe Barry from Charleville has been nominated for Freelance Make-Up Artist of the Year. Chloe is located in Esther's Hair Salon, Main Street, Charleville. The awards ceremony promises to be the most memorable night in the make-up industry calendar this year, with many accolades to be awarded in categories such as Make-Up Salon of the Year, Freelance Make-Up Artist of the Year, Creative Make-Up Artist of the Year and many more. The glamorous event promises to be as glitz and glam as the individuals and salons it is celebrating.
Irfan Younis, CEO of Creative Oceanic, said this week: "The Irish make-up industry has grown massively and this ceremony has been put on to celebrate exactly that. The make-up industry needs to be recognised for its economic contribution to the country's revenue, and we will continue pushing the businesses forward to showcase their impeccable work and give the excellent professionals working in the Irish make-up industry, the recognition they deserve.
"All finalists should feel very proud of themselves because it is their clients who have given them the green light to the finals. We would like to wish all the finalists the best of luck and we are looking forward to delivering another wonderful event," he said.
Thanks to all who voted for Chloe.
To check out Chloe Barry's work, go to Instagram – chloebarrymakeup, Facebook – chloebarrymakeup, or Snapchat – chloebarrymua.