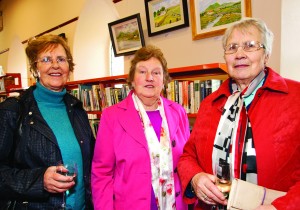 Last Tuesday afternoon 15th May visitors to Charleville Library were witness to a wonderful display of art work by members of the Churchtown Wednesday Club. The quality of the artwork was quite something, and when you consider that this is the work of a group of older adults, many of whom are first-time painters, their achievement is all the more inspiring. It was indeed fitting that the exhibition is being undertaken to celebrate the Bealtaine Festival which celebrates creativity in older age. The Wednesday Club members have been working with their mentor Marian Hayes of Ballyhoura Rural Services since last autumn. It was great to see such a large attendance to mark the opening of the exhibition and to celebrate the creativity of this group of older adults.
Kevin O'Shea, who opened the exhibition, paid tribute to all the artists and said it was wonderful to witness such enthusiasm and creativity in the older generation. He said that painting gave the individual a unique opportunity to express themselves.
Liz Hennessey, who co-ordinates the activities of Wednesday Club, paid tribute to the group for their wonderful work. She thanked Marian Hayes for her mentoring of the group. She thanked the H.S.E, Ballyhoura Development and Ballyhoura Rural Services for their ongoing support. She thanked Cork County Council and the staff of Charleville Library for the use of such a wonderful venue for the exhibition. All present enjoyed the art work, the company of friends and neighbours and the cheese and wine reception. The exhibition runs from 15th to 30th May.