All-Ireland Senior Hurling Championship Final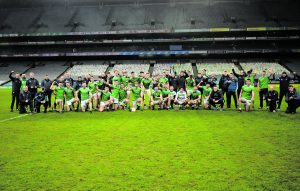 LIMERICK…………………………………………………………………………………….…………0-30
WATERFORD……………………………………………………………………………….…….…….0-19
Limerick were crowned All-Ireland Senior Hurling champions for a second time in three years following a comprehensive victory over Waterford at Croke Park on Sunday.
It was the second time in as many years that the counties have squared up at headquarters in a national final and unfortunately for Waterford it is the second time they have come out second best by a distance.
Waterford's high hopes of coming in from 61 years in the All-Ireland wilderness began to dwindle from the get-go as Limerick who were sloppy in the opening exchanges in the recent win over Galway in the semi-final, really hit the ground running on this occasion.
It was clear from the time Fergal Horgan threw in the sliothar to get proceedings underway that Limerick had kept their peak performance for the day that mattered most. Hopes of Liam Cahill and his men recapturing the second half semi-final level of performance that sent Kilkenny tumbling of the competition never evenly remotely looked like materialising.
It will not go down as a great final as Limerick enjoyed a measure of mastery throughout and rarely looked like Waterford were going to derail the Treaty county's drive for a 9th All-Ireland success.
Waterford's strategy was built around their strong half back line that had served them so well on their march to the final. In the Munster final, they did not allow Limerick impose their will on proceedings in that area but on this occasion it was different. The Limerick half forward line yielded just four points in the Munster final, in Croke Park it yielded twelve from play, seven from Man of the Match Gearóid Hegarty and five from Tom Morrissey. Cian Lynch did not get on the scoreboard but that does not mean he did not have an impact on the game as he had a huge one.
Liam Cahill's best laid plans were disrupted as early as the 22nd minute when centre half back Tadhg De Búrca had to leave the field because of injury. He was replaced by Lismore's Iarlaith Daly but the Clashmore-Kinsalebeg man's boots were hard to fill. Prior to De Búrca's premature departure Limerick had got a grip in that area something they held or if anything strengthened as the game went on.
By contrast, the Limerick half back line were imperious outside a full back line that was equally so and the defensive septet included Nickie Quaid restricted the Waterford attack to just five points over the course of over 75 minutes of hurling. Three more of the Waterford points from play came from the half back midfield axis.
On the day, the threat of danger men, Dessie Hutchinson and Stephen Bennett from play was well curtailed Jamie Barron at midfield was not allowed dictate the terms of engagement as William O'Donoghue and Darragh O'Donovan saw to it that the Fourmilewater dynamo's runs and influence was well policed.
Limerick started brightly with early points from Tom Morrissey and Séamus Flanagan but Waterford were level after six minutes courtesy of two Stephen Bennet frees, the first from his own 65.
Waterford created the first goal scoring chance as early as the second minute when a Jack Fagan screamer flew to the right of Nickie Quaid's goal.
Limerick landed the next four points through Morrissey and two from frees and one from a play from Aaron Gillane. It could have been better for Limerick were it not for a stunning double save on the 13th minute by Stephen O'Keeffe first from Kyle Hayes and the follow up from Cian Lynch.
Points from Austin Gleeson and a Stephen Bennett free sandwiching a long range effort from William O'Donoghue left Limerick in the ascendency 0-7 to 0-4 at the first water break.
Three in a row for the Shannonsiders from skipper Declan Hannon, Gearóid Hegarty and Kyle Hayes doubled Limerick's advantage 0-10 to 0-4 after 26 minutes.
Waterford had a second goal chance on 27 minutes but Diarmaid Byrnes got in a timely block to deny Stephen Bennett discharging a pile driver at Nickie Quaid.
It roused the Déise and the landed the next three points through Austin Gleeson from a line ball and the Bennetts, Kieran and Stephen.
Tom Morrissey and Aaron Gillane restored a five points lead for Limerick, Bennett and Gillane traded minors and Hegarty slotted over to restore a six points cushion for Kiely's men as half time rapidly approached.
Waterford finished the half with a mini flurry of scores from a Bennett double from placed balls and Gleeson to close the gap to a very manageable 0-14 to 0-11 at half time.
Limerick started the second half on the front foot and it reflected on the scoreboard as they racked up four unanswered points to steam 0-18 to 0-11 clear within six minutes of the restart. Séamus Flanagan, Gearóid Hegarty. Aaron Gillane and Flanagan again all found the range.
Stephen Bennett from a free opened the Déise's second half account but his effort was quickly trumped by a Hegarty double and one from Tom Morrissey as Limerick's bid for a second title in three years cranked into relentless momentum.
Wings backs Kevin Moran and Calum Lyons in quick succession landed points to keep Waterford in touch but Gillane, Hegarty and Gillane again quickly arrested hopes of a revival by Liam Cahill's men as Limerick went nine points clear.
Stephen Bennett from play closed what was becoming a yawning gap to 0-24 to 0-16 at the second water break.
Aaron Gillane extended Limerick's lead soon after the resumption before Waterford launched last desperate bid for salvation. Two points from Austin Gleeson and one from Stephen Bennett with Limerick only reply a fine effort from play by Gillane closed the gap to seven. In that spell Calum Lyons forced a fine save from Nickie Quaid.
Limerick were having no more of it and completed a second All-Ireland success in three years with aplomb with four unanswered points from Hegarty, substitute Pat Ryan, Diarmaid Byrnes and Tom Morrissey,
Scorers: Limerick: Aaron Gillane 0-10, 6fs; Gearóid Hegarty 0-7; Tom Morrissey 0-5; Séamus Flanagan 0-3; William O'Donoghue, Declan Hannon, Kyle Hayes, Pat Ryan, Diarmaid Byrnes 0-1 each.
Waterford: Stephen Bennett 0-10, 9fs; Austin Gleeson 0-5, 1f, 1s; Kieran Bennett, Dessie Hutchinson, Kevin Moran, Calum Lyons 0-1 each.
Limerick: Nickie Quaid (Effin); Seán Finn (Bruff), Dan Morrissey (Ahane), Barry Nash (South Liber-ties); Diarmaid Byrnes (Patrickswell), Declan Hannon (Adare) – Captain, Kyle Hayes (Kildimo-Pallaskenry); Darragh O'Donovan (Doon), William O'Donoghue (Na Piarsaigh); Gearóid Hegarty (St. Patrick's), Cian Lynch (Patrickswell), Tom Morrissey (Ahane); Aaron Gillane (Patrickswell), Séamus Flanagan (Feo-hanagh), Graeme Mulcahy (Kilmallock).
Subs: Peter Casey (Na Piarsaigh) for Graeme Mulcahy (49), David Reidy (Dromin-Athlacca) for Darragh O'Donovan (59), Pat Ryan (Doon) for Séamus Flanagan (63), Adrian Breen (Na Piarsaigh) for Aaron Gillane (68), Paddy O'Loughlin (Kilmallock) for Kyle Hayes (70)
Waterford: Stephen O'Keeffe (Ballygunner); Ian Kenny (Ballygunner), Conor Prunty (Abbeyside) – Captain, Shane McNulty (De La Salle); Calum Lyons (Ballyduff Lower), Tadhg Dr Búrca (Clashmore-Kinsalebeg), Kevin Moran (De Las Salle); Jamie Barron (Fourmilewater), Kieran Bennett (Ballysaggart); Jack Fagan (De La Salle), Neil Montgomery (Abbeyside), Stephen Bennett (Bally-saggart); Dessie Hutchinson (Ballygunner), Austin Gleeson (Mount Sion), Jack Prendergast (Lismore).
Subs Iarlaith Daly (Lismore) for Tadhg Dr Búrca (22), Darragh Lyons (Dungarvan) for Kieran Bennett (40), Conor Gleeson (Fourmilewater) for Neil Montgomery (45), Patrick Curran (Dungarvan) for Kevin Moran (52), Shane Fives (Tourin) for Ian Kenny (55).
Referee: Fergal Horgan, Tipperary.