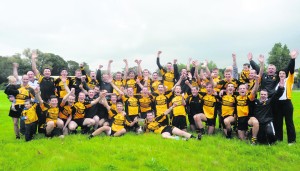 Clyda Rovers…………………………………………………………………………….0-13
Macroom…………………………………………………………………………………0-8
Clyda Rovers players, mentors and supporters felt a sigh of relief at the final whistle on Sunday in Pairc Ui Chaoimh when they were crowned Co Premier IFC champions.
Having contested three finals in a row without success in 2009, 2010 and 2011, it was a welcome break to be back at the top table in Cork football for the 2014 Co SFC. Macroom provided the opposition but, except for a brief opening 10 minutes, it was Clyda Rovers who dominated and by half time they looked like taking the title. Throughout the five games in the Co Championship the Avondhu side conceded no goals and held their opponents to the most 10 points on one occasion. Just 3 points were conceded to Castletownbere, 7 to Bantry Blues, 10 to Glenville, 4 to Nemo Rangers and in the final 8 to Macroom. Macroom looked like doing well early on. They had a wide by David Goold after a minute. The same player missed a goal scoring chance soon after and Fintan Goold was also off target after just 4 minutes. The Mid Cork side opened the scoring when Pa Lucey worked well for David Goold to kick the opening point after 5 minutes. Ivan Casey followed with a point soon after. Clyda Rovers gradually came into the game Paudie Kissane was denied by a good save by James O'Connell. It took the Avondhu side till the 12th minute when Conor Flanagan kicked a very good point. Philip Corrigan looked impressive for Macroom in these opening minutes. At the end of the first quarter Conor Flanagan levelled from a free. Cian O'Sullivan gave Rovers the lead with a punched point. A foul on Gavin Carey led to a well taken pointed free by James Murphy that opened up a lead 0-4 to 0-2. Macroom moved David Goold to the half forward line with Brendan Lynch going to the edge of the square. They also put Fintan Goold at midfield with Seán Kiely going to centre back. Clyda were off target and in the 20th minute Macroom with a pointed free by Pa Lucey were back in the hunt trailing 0-4 to 0-3. Clyda Rovers pulled away from here. They used the short passing at speed out of defence and forced Macroom to concede frees. James Murphy pointed his second free and by the 24th minute Rovers led 0-5 to 0- 3 after both sides had kicked 3 wides each. Ciaran Murphy pointed for the Mid Cork side but Rovers were quick to reply when Ray Carey and Kenneth Fitzgerald worked well for Padraigh O'Mullane to point. Clyda Rovers had another wide, but in the closing moments Paudie Kissane and Conor O'Sullivan combined well for Kenneth Fitzgerald to kick the first of his 4 great points, 0-7 to 0-4 at the break.
For the second half Macroom introduced Andrew Hegarty. They had an early point by Fintan Goold. Rovers replied with excellent points by Kenneth Fitzgerald and Paudie Kissane 0-9 to 0- 5. Macroom had a point by Seán Kiely but a great Kenneth Fitzgerald point in the 4lst minute after a four man movement opened up a four point advantage 0-10 to 0-6. Macroom missed a few chances but Rovers were never really troubled as their entire defence were very solid. Macroom badly needed a goal and this never looked likely. Kenneth Fitzgerald kicked his 4th point from long range. Fintan Goold kept Macroom ticking over with a 46th minute point. Macroom could not get any closer. Rovers held possession and frustrated the Macroom side. Two more points by Conor Flanagan and Padraigh O'Mullane opened up a five point lead with 10 minutes to go 0-12 to 0-7. James Murphy sealed victory with another point. In a last ditched effort Fintan Goold with a close in free saw the ball go over the bar and the final whistle followed. Rovers were champions and Ollie O'Hanlon received the Cup from Co Board Chairman Bob Ryan. It was a great team effort with all players including the substitutes putting in a massive display. It was also very satisfying for the backroom team including Ned English the coach who put so much effort in all year.
Scorers for Clyda Rovers : Kenneth Fitzgerald 0-4, James Murphy 0-3 (0-2f) Conor Flanagan 0-2 (0-1f) Padraig O'Mullane 0-2, Cian O'Sullivan 0-1, Paudie Kissane 0-1.
Macroom: Fintan Goold 0-3 (0-1f) David Goold 0-1, Ciaran Murphy 0-1, Ivan Casey 0-1, Patrick Lucey 0-1, Seán Kiely 0-1.
Clyda Rovers: Cian Conway, Niall O'Mullane, Ray Carey, Chris Kenny, Chris Buckley, Fionn O'Shea, Ollie O'Hanlon, Kenneth Fitzgerald, Conor Flanagan, Conor O'Sulli-van, Paudie Kissane Gavin Carey, James Murphy, Padraigh O'Mullane, Cian O'Sullivan. Subs: John O'Hanlon for Conor Flanagan, Colman Lane for Padraigh O'Mullane, Maurice O'Brien for Chris Buckley.
Macroom: James O'Connell, Peter Lynch, Rory Buckley, Martin O'Donnell, Seán Kiely, Fintan Goold, Ciaran Murphy (capt) Philip Corrigan, Eoin O'Mahony, Brendan Lynch, Ivan Casey, Tony Dineen, Patrick Lucey, David Goold, David Horgan. Subs: Andrew Hegarty for Peter Lynch, Barry O'Donnell for Martin O'Donnell, Stephen Casey for David Horgan, Michael Cahill for Seán Kiely, Seán Kiely for Ivan Casey.
Referee: James Bermingham (Bride Rovers)