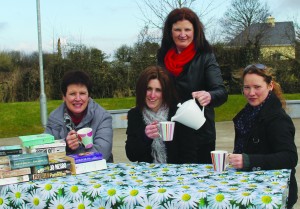 Locals in the Ballylanders, Glenroe and Glenbrohane area are rowing in behind Public Health Nurse, Helena O'Connell who has set herself the tough challenge of losing weight for charity. Helena, along with six others, are losing weight with Believe 2 Achieve in Glanworth and each one is raising money for a charity of their choice.
Helena has a special connection with her chosen charity, St Joseph's Foundation in Charleville, as her brother David has Down Syndrome. As with every service and charity St Josephs Foundation has suffered from budget cuts and austerity measures. Right across the board the services have been cut or abolished and the Respite services have taken a big hit.
So with this in mind Helena has recruited the support of a number of local busi-nesses and organisations to help her in her fund raising battle. Helena also has sponsorship cards available and you can also sponsor her through the Believe 2 Achieve Facebook page. With several local events currently in the pipe line, one group Helena knew would help her was The Glen Book Club. This local book club, which encom-passes the surrounding areas of Glenbrohane, Glenroe, Galbally and Ballylanders, have offered to host a Coffee Morning and second hand book sale to aid the fundraising drive.
The Coffee Morning will take place in Our Lady's Day Care Centre, Bally-landers on Thursday May 2nd from 10am-1pm, people are urged to come along on the morning and support this very worthwhile event. Second hand books will be available to buy on the day or if you have books that you wish to donate please contact Helena or drop them to Puddleduck's Pre-School, Kilgarriff. More information is available by contacting Helena on 087-9257756.