Coláiste Íde agus Iosef…………………………………………..1-10
Loretto Fermoy……………………………………………………….2-6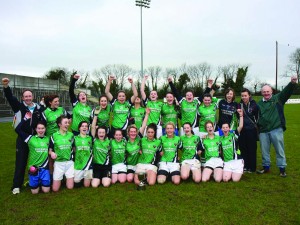 Saturday last February 11th saw the senior ladies footballers of Coláiste Íde agus Iosef Abbeyfeale play Fermoy in the Munster Senior A Final at Mallow.
In heavy underfoot conditions at the main pitch in the Mallow Complex, Fermoy were first to score with a point in the 5th minute. This was quickly followed by a score for the Abbeyfeale College from the boot of Megan Carroll.  The next score came as a result of a sweeping move from the Abbeyfeale ladies that saw link up play from Chloe Dalton, Tina Mangan, Eibhlis Dillon and Mariah Stack to set up Rebecca Daly who rounded the keeper for a well taken goal. Further points from Eibhlis Dillon, Leanne Mangan (1 play, 1 free) and a long range effort from full back Sinead Guiney saw the Abbey-feale side take a half time lead of 1-4  to 1-1.
The second half began with a Coláiste Íde pointed free in the 3rd minute from Leanne Mangan and another from play 2 minutes later to give the Abbeyfeale ladies a 5 point advantage.
However, the physical strength of the Fermoy was now beginning to show with 4 points in 15 minutes to leave just one between the sides.
A driving run up the middle in the 21st minute saw Laura Sheeran give the Abbeyfeale side a 2 point advantage once again. Points were then swapped by both sides, the latter coming from a superb team move from Abbeyfeale, pointed from 30 metres by Sinéad Guiney who was now very influential at centre back, along with the excellent Sorcha McNulty who kept Cork inter-county star Jennifer Barry scoreless. 
However, just as Coláiste Íde agus Iosef had started to take control of midfield they were shell-shocked by a Fermoy goal with 4 minutes remaining to leave them one behind for the first time in the game. With defeat staring Abbeyfeale in the face, Tina Mangan won the next kick out to pass to her sister Leanne to draw level. With one minute remaining the Abbeyfeale college won possession and a great passing move involving Megan Carroll, Lisa O'Connell, Laura Sheeran and Mariah Stack ended with Eibhlis Dillon driving through the Fer-moy defence to score a match winning point from a tight angle out on the right. The final whistle blew immediately to cheers of jubilation from Abbeyfeale supporters who saw the Coláiste Íde agus Iosef ladies footballers crowned Senior A Munster champions on a score line of 1-10 to 2-6.
Munster Chairman Dan O'Mahony presented the cup to captain Laura Sheeran and Player of the Match to midfielder Eibhlis Dillon.
Afterwards coach Con Healy praised the team for their wonderful character and never-say-die spirit which helped clinch victory for them in the final minutes.
The Coláiste Íde agus Iosef ladies now play St. Leo's of Carlow in the All-Ireland semi-final on March 3rd at a venue to be decided.