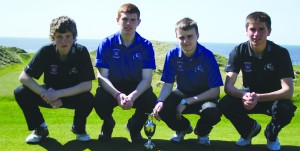 From the heat of Dragons Den to the glamour of the fashion catwalk, Coláiste Iósaef students are an inspiration in the field of business entrepreneurship and fashion design. What a week it has been for the students of the Kilmallock school.
Three Coláiste Iósaef students together with teacher Niamh O'Hara won the Grand National Final of the Junk Kouture competition on Friday last which was held at the Bórd Gáis Energy Theatre in Dublin in front of a capacity crowd.
A group of enterprising students from the school were selected from over 600 entries for Junior Dragons Den and after numerous regional heats, qualified for the National Finals from over 400 to be one of twenty to make the live show. That is not all, Coláiste Iósaef were involved in the prestigious Links Cup in schools golf and hosted a return visit from Albyn School, Aberdeen.
It's a long way from Kilmallock to Cannes, but the winning students of this year's Junk Kouture Fashion Show will be rubbing shoulders with Leonardo di Caprio, Carey Mulligan and Heidi Klum in May on the red carpet. Last Friday night, students Annie Corbett, Ceile Corbett, Shannon McCarthy together with their teacher Niamh O'Hara, were announced as winners of the Grand Final of Junk Kouture. The Grand Final followed four regional heats in which the Junk Kouture judges made up of Supermodel Faye Dinsmore, TV presenter Darren Kennedy, European Recycling Platform's Yvonne Holmes and Art and Design Educator Tracy Fahey whittled 2,000 student entries down to just 80 finalists.
On the night, all 80 finalists from schools from Donegal to Dublin and Belfast to Cork took to the catwalk in a spectacular show with amazing dance routines, fist pumping music and awe inspiring designs. Coláiste Iósaef has made the Grand Final for the third year running and last year student Katie O'Brien won the Southern Region title and was eventual runners-up. This year the school was hopeful of going one better.
'Ultra Violet Wash' was the title of their entry, a fusion of oriental influence fabricated with clothes pegs and tumble dryer fluff! As the girls were first announced regional winners and then awarded the overall title, the stage and theatre erupted in joy. Incredibly the school walked away with a cash prize of €2,500, €1,000 of IT equipment and a cash prize of €500 for the winning girls. But that's not all. Niamh O'Hara was also awarded the 'Glamour Prize'. The evening was complete when the group were invited to participate in the Late Late Show.
To top all this, the girls have won a three day all expenses paid trip to the Cannes Film Festival next month where they will make a number of public appearances and attend numerous photo shoots on the famous red carpet.
"Now I can't believe it still, I mean the prizes are incredible. I didn't know half of them to be honest, when we were in the car on the way to the Late Late Show and they started telling us all the things we've won from Cannes to the week in Fashion College to new iPhones. It's fantastic, probably the best day of my life, well close anyway" said Annie Corbett.
Reflecting on the great win, art teacher Niamh O'Hara said "I'll be honest this has been building for three years and students have started looking at potential entries from two, three years away. I thought the girls had a great opportunity this year and it's a real team effort from students and lots of teachers contributed and our Principal really supported us. We provide so many ways for our students to succeed, it's a fantastic school to be part of. I'm delighted for the girls as no effort was beyond them."
Reflecting on Coláiste Iósaef's success, school Principal Seán Twomey added "It's a great achievement and I am delighted for the students, Annie, Ceile and Shannon. It's also a fitting tribute to Ms O'Hara and the Art department. Junk Kouture is a fabulous competition combining fashion with environmental awareness. I firmly believe that creativity promotes self-efficacy and as a school we look to nurture this in our students.'
The girls Annie, Ceile and Shannon have an exciting summer ahead where they will be gracing the catwalks of numerous fashion weeks, notably, London Fashion Week, and joining the stars at the London Film Festival also.
DRAGONS DEN
Helping make it a very special week for the Coláiste Iósaef were enterprise students Seán Finn, Sarah Finn, Elaine Houlihan, Darragh Glynn, Lisa Barry and Patrick Maher together with their Business Enterprise teacher, Eoin Shinners The group were selected from over 600 entries for Junior Dragons Den and after numerous regional heats, qualified for the National Finals from over 400 to be one of twenty to make the live show. The group attended red carpet event at the Four Seasons Hotel in Dublin for the pre-screening of this year's Junior Dragons Den which like Junk Kouture, was sponsored by Bank of Ireland. In attendance were top Bank of Ireland officials together with Dragons Barry O'Sullivan, Ramona Nicholas, Gavin Duffy and Seán O'Sullivan. The 5th year students have been busy running their own business, which they initially set up as part of the County and National Enterprise Awards in 2011. Their business is called Sideline and they students manufacture a hurley bag suitably named the 12-PAC, because it stores, carries and enables efficient distribution of spare hurleys during a game. The students built on the success of last year's County Enterprise Awards and after coming through the regional heats of Junior Dragons Den, they were selected as one of 100 who were invited to attend the National Finals in Dublin. Incredibly, after pitching to the judges, Sideline were selected as one of the 20 winners who would go forward to the live show where they would deliver their pitches to the Dragons in the heat of the Den. Two episodes have been put aside for Junior Dragons Den and they will be aired on RTÉ on Sunday 28th April and Sunday 5th May next.
LINKS CUP
Last week also saw the return of students from Albyn School in Aberdeen, Scotland, to Coláiste Iósaef. The students travelled to compete in the annual Links Cup which took place in Doonbeg, Ballybunion and Shannon.
The aim of the competition is to establish links between schools in Ireland and Scotland. The event provides students the opportunity to develop new links through the spirit of golf and experience both the Irish and Scottish education systems, cultures and traditions. The trip is run on a home stay basis which only adds to the experience for the students. The standard of play over the three days was exceptionally high with only one point separating the teams going into the final day of play. The decisive match came down to a birdie putt on the 17th green in Shannon Golf Club, with Albyn securing victory and the Links Cup for the first time. The competition was a huge success. The return leg to Scotland will take place next October and will Coláiste Iósaef students will play at St Andrews Old Course, Carnoustie, Royal Aberdeen and Cruden Bay. The event is the only one of its kind running in the country and is exclusive to schools on an invitation basis. This year, Coláiste Iósaef has both a junior team comprising of David Carroll, Phelim O'Reilly and Liam Fitzgerald and a senior team made up of Shane Irwin, Thomas Meany, Kevin Bulfin and Dylan Walsh.