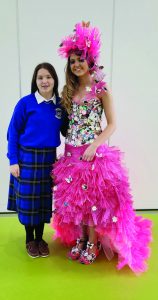 The Coláiste Iosaef entry for Junk Kouture has qualified for the Southern Regional Finals of Junk Kouture through a dress designed by Ava Hennessy and Katie Clery, and made from clothes tags, mesh from industrial gas cylinders and old wire.
The theme of our dress, Tagmania, represents fast fashion and the amount of clothes people are buying in a short period of time.
The mesh from the gas cylinders represents the emissions being released into the atmosphere during the manufacture and transportation of fast fashion, while the butterfly and flower shapes represent the animals and plants getting affected by climate change.
The first steps
The Kilmallock college students take up the story:
"Firstly, we gathered lots of clothes tags from friends and family members and cut them into flower and butterfly shapes using a cuttlebug cutter which belonged to a family member. We made big and small flowers and glued the smaller ones onto the bigger and bent the petals to make them look 3D, we did the same when making the butterflies. We glued them onto a corset which a family member kindly donated to us. The corset is filled with hundreds of these flowers and butterflies. At the top rim of the corset we glued on spray painted mesh from the skirt. "
Making the skirt
"Once we had the top finished we began to make the skirt. SWP in Kilmallock very kindly offered us the mesh from around the gas cylinders to create the skirt.
We cut the big pieces of mesh open, layered the mesh down along to make the shape of the skirt and when we were happy with the length we cut it into the shape we wanted. Then we got smaller pieces of mesh and made fans by folding the mesh onto itself. After making 493 fans we spray painted them two different shades of pink and tied them onto the skirt using twine we had at home. When we had all the fans on we added some of the flowers and butterflies onto the skirt. "
An old pair of high heels
"After the skirt was made we decorated an old pair of high heels we had at home. We spray painted them pink to match the dress and added small fans to the front and back of the high heels, then we glued flowers up the side of each heel and a butterfly to the front.
Finally, we made the headpiece, the frame of it was made from old wire and we attached the spray painted mesh, flowers and butterflies. The headpiece winds towards the dress using the same materials.
We are both over the moon that our dress made it to the Southern Regional Finals which will be shown on the Junk Kouture Youtube channel from 21st to 25th March, with the lucky winners being announced on March 27th. It really shows that our hard work paid off in the end and we are so excited to see how we get on. Thanks to Ms. Raleigh and Ms. Daly for their help and guidance during the Junk Kouture competition. Fingers crossed for the finals. "