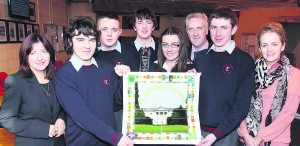 Top prizes for Coláiste Treasa and Davis College at North Cork Schools Enterprise Competition
Students from Coláiste Treasa in Kanturk and Davis College in Mallow walked away with the top prizes at the Regional Finals of the North Cork Schools Enterprise Programme, which took place in the Mallow GAA Complex last Friday. The competition is part of the National Student Enterprise Awards and the teams from Kanturk and Mallow will now go on to represent North Cork at the National Final of the Student Enterprise Awards which take place in Croke Park on 18th April. In the Senior Category (Transition Year students) the winning team's business idea is called Explanation of Our Nation, from Coláiste Treasa in Kanturk – the students' idea is an innovative board game that teaches young people about the history and politics of Ireland. The students took their product all the way from idea stage to sales and marketing as part of running their student enterprise over the academic year. Other prizes awarded on the day in the Senior category included:
Best Display Stands: Bead It, Millstreet Community School (design and production of hand-made beaded jewellery)
Gum Busters, Coláiste Mhuire, Buttevant, a product that can be attached to the underneath of a table to help reduce the effects that chewing gum has on tables in schools and public areas)
Best Presentations: Álainn, St. Mary's School, Charleville, (Hand-made beauty products)
Screensaverz, Patrician Academy, Mallow, (A ser-vice to fix broken screens on telecommunications devices)
Best Innovation: Amichi, Boherbue Comprehensive School, (company making a range of products including an innovative storage device for storing Christmas lights, club wristbands and a device for storing whiteboard markers)
Precision Putters, Patri-cian Academy, Mallow, (handmade aid for putting)
Best Marketing:
In North Cork, St. Mary's Secondary School, Mallow (website that showcases events in North Cork)
Fizzam, Colaiste an Chraobhin, Fermoy, (discount booklets for use in Fermoy region)
Best Business Reports:
CT Scoreboards, Coláiste Treasa, Kanturk, (manufac-ture and sale of badminton scoreboards)
Premier Posters, Patrician Academy, Mallow, (French posters for junior cert students)
In the Junior Category (1st year students), the students from READ from Davis College in Mallow took the top prize. Their business idea was a range of children's story books to increase literacy levels in young children.
In the Intermediate Cate-gory (2nd year students) the students from Phoebe's Gift, also from Davis College in Mallow, scooped the top award on the day. Their business idea was a range of anti-bullying craft items including knitted items, bags, pencil cases and pens.
34 mini-companies took part in the event, which is designed to give students who are running their own student enterprises a taste of what it's really like to be entrepreneurs. At the event students set up exhibition stands and gave a 10- minute interview to a panel of judges drawn from the local business community. The judges included Dan Murphy of Dan Murphy Life Pensions, Nicolette O'Mahony of Unique Beauty Salon, Helen Healy of AIB and William Healy of Crystal Computers.
The Manager of North Cork Enterprise Board, Michael Hanley, speaking after the event, said: "We are absolutely delighted with the turn-out at the event this year. We have almost double the number of student enterprise teams participating in our pro-gramme this year compared to last year, and this is very much a testament to the hard work and commitment of the teachers and students in the schools in the North Cork region."