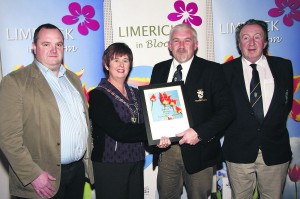 Glin Homes for the Elderly was named the overall winner of the 2011 Limerick in Bloom competition at a ceremony held in the Council Chamber, Dooradoyle, on Wednesday 26th October.
Forty-six communities from across County Limerick took part in this fourth annual competition, which is a motivational mechanism for the many small local based groups throughout the county to enhance the visual impact of their settlements by means of flower, tree and shrub planting.
Organised by Limerick County Council, in conjunction with Shannon Development, 'Limerick In Bloom' adjudication takes place during July and considers such factors as colour, size, variety, location and appropriateness of the various planting schemes along with the management of litter.
Competition categories are based on population size with a first, second and third prize in each category of €1,100, €550 and €300 respectively. Category 1 caters for towns and villages with a population in excess of 700; Category 2 is for population centres of between 300 and 700 people; Category 3 features villages with a population less than 300; and Category 4 caters for Housing Estates and Community Areas.
The 2011 Overall Winner of Limerick in Bloom and the winner of Category 4, catering for Housing Estates and Community Areas, was Glin Homes for the Elderly.
Cathaoirleach of Limerick County Council Cllr. Mary Harty presented the winner with a €1,600 voucher, a certificate and the Limerick in Bloom trophy. She congratulated the group for their work in enhancing the overall appearance of the estate and acknowledged the excellent community involvement in the Community day care centre.
Cappamore Estates Committee finished second in Category 4 while Bruff RFC and Kilteragh Residents Association were awarded joint third prize.
Adare Tidy Towns were named overall winner of Category 3. The runners up in Category 3 were Patrickswell Tidy Towns 2nd and Castleconnell Tidy Towns 3rd.
Oola was named overall winner of Category 2, with Murroe Tidy Towns and Broadford Development Association being named second and third place winners.
Winner of Category 1 was the village of Kilteely. The runners up in Category 1 were Strand Community Development 2nd and Ardpatrick Tidy Towns 3rd.
Meanwhile, other partici-pating communities in the Limerick In Bloom compe-tition were lauded for their work to enhance the app-earance of their respective towns and villages. A total of 33 community groups were presented with framed certificates and a €100 voucher for the effort undertaken to beautify their local areas.
HIGHLY COMMENDED
Ardagh Development Association
Cappagh Community Council
Croagh Village Renewal Group
Kilbehenny Tidy Towns
Galbally Tidy Towns
Pallaskenry Community Council and Tidy Towns
Hospital Tidy Towns
Kilfinane Tidy Towns
Drombanna Houses and Senior Citizen Centre
COMMENDED
Castlemahon Development Association
Clarina Tidy Towns
Colemanswell Community Council
Coolcappa Community Group
Creeves Community Group
Glenbrohane Tidy Towns
Kilcolman Development
Kildimo Tidy Towns
Kilfinny Community Council
Killeedy Parish Community
Kilmeedy Community Development Group
Knockainey Tidy Towns
Knocklong Tidy Towns
Doon Tidy Towns
Glin Development Association
Shanagolden Tidy Towns
Ballyneety Village
Bruff Tidy Towns
Croom Community Development Association
Kilmallock Tidy Towns
The Forts Residents Association
Killeaney AFC
Forest View Residents
Glenside Residents Association
According to Cllr. Harty: "Limerick In Bloom provides members of the local community with the opportunity to show their pride in their respective towns and villages. By improving County Limer-ick's appearance through attractive floral displays, participants have also helped to lift spirits during these difficult economic times. It is evident from the high level of partici-pation in this year's com-petition that the spirit of volunteerism and pride of place is very much alive in this county. I look forward to this community spirit shining through again in 2012 when hopefully there will be a further increase in participants."
Mr. Eoghan Prendergast of Shannon Development, sponsors of the Limerick in Bloom Competition, acknowledged the efforts of those who participated in and contributed to this year's competition. "I wish to pay tribute to the 46 entrants, without their part-icipation and contribution to the appearance of their respective communities, there would be no competi-tion." Mr. Prendergast concluded by congratu-lating Glin Homes for the Elderly on being the 2011 overall winner of the competition.