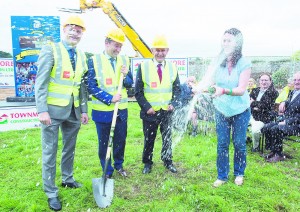 On Tuesday, Minister Sean Sherlock TD performed the official 'turning of the sod', marking the commencement of construction on the site of the new €6.5 million state-of-the-art campus for Coláiste Mhuire, Buttevant. Coláiste Mhuire is a community college, managed under an agreement between Cork Education and Training Board (Cork ETB) and the Bishop of Cloyne. 
"Cork ETB has been an advocate for the new school for many years and we are delighted that construction has officially commenced on the new campus. The new school will further enhance the educational experience of the 325 students enrolled at Coláiste Mhuire," said Ted Owens, CEO, Cork ETB. 
The new 4384 square metre campus will be one of the most modern in the country, once completed, and will include specialist lecture rooms, music/dance workshops, science laboratories, engineering workshops, a multimedia learning laboratory, library, prayer/meditation room, multi-sensory room, PE hall, fitness suite and extensive external hard court areas. 
"I'm delighted to officially turn the sod at this school project – a project that I was proud to deliver as a Minister in the Department of Education," said Minister Sean Sherlock TD. 
"The fact that construction has now started is an extremely positive step, and I want to pay tribute to the entire school community for the work put in this yearand over the last number of years. I look forward to seeing this school construction progress and the official opening in 2015," he added. 
"The realisation of our new school campus, after many years of campaigning is a dream come through for students, parents, staff and the surrounding communities of Buttevant," said Donal O'Sullivan, Principal, Coláiste Mhuire, Buttevant. 
"This project has received huge support from the wider community but in particular from Cork ETB. The delivery of the new school campus will provide us with an amazing facility and will provide the physical and technological environment that our community richly deserves," he added. 
The Department of Education and Skills has funded the project under the five year (2011 -2016) capital investment in schools programme. The new school on Station Road, Creggane is expected to open in September 2015. 
The groundbreaking ceremony also honoured the memory of the late Mary Joe Fitzgerald, former proprietor of the Welcome Inn, Buttevant. Mary Joe was very involved in the community campaign for the new school; sadly, Mary Joe passed away last year before work started on the new campus. Her daughter, Lisa, honoured her memory by opening the bottle of champagne that she bought in 1997 in celebration of the new school.