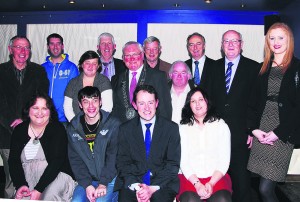 The launch of Forging Links took place last Wednesday in the Hiber-nian Hotel, with a view to enabling COPE Foundation service users to link in with the local community. The aim of the project is to forge a contact for service users that would enable them to access work and social opportunities within the community.
The project was launched by Mr. Sean Sherlock Minister for Innovation and Enterprise.
Under the scheme, six public figures will mentor six service users for a six month period. These public figures will be headed up by Mayor Dan Joe Fitz-gerald, and indeed many other very prominent people in the North Cork area. This innovative project will also involve mentors contacting businesses and different groups in society and advocating on behalf of the individual.
COPE as an organisation has enjoyed tremendous support from the people of North Cork over the last 25 years, and they are confident the project will open many doors for their service users.
Mayor Dan Joe Fitzgerald was introduced by Jerry Mullane, Manager of COPE Foundation, and the Mayor spoke fondly of his and his fellow councillors on Mallow Urban District Council's interaction and links with COPE Found-ation Mallow. Mayor Fitzgerald said he was very happy to be part of COPE's Supported Employment Programme, and that COPE and its service users held a special place in his heart. He added that he as Mayor and Mallow Town Council would endeavour to continue to forge links with COPE Foundation Mallow to the best of their ability. He also welcomed Colette Kelleher to Mallow, and congratulated her on new role as Chief Executive of COPE Foundation. He then thanked service user Norita Hedigan, who spoke about her employment in the Wild Goose, and he said she was an inspiration to both service users and residents of Mallow alike.