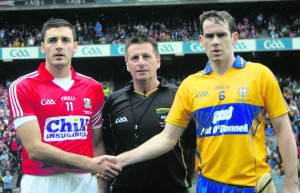 Cork …………………………………………3-16
Clare …………………………………………..0-25
Cork and Clare played a very strange All Ireland SHC final on Sunday in Croke Park before 81,651 patrons. Clare got off to a very good start and three early points saw them settle well. Cork opened with a Pat Horgan pointed free in the 7th minute. Tony Kelly replied for Clare. The Cork defence was under pressure but they did well denying Darach Honan a good chance in the 10th minute. A foul on Cork's Luke O'Farrell produced another pointed free by Horgan after 10 minutes.
At this stage Clare were winning the lion's share of the puckouts. A foul on Seamus Harnedy saw Horgan close the gap. In the 12th minute Clare added a pointed free by Colin Ryan. The same player forced Anthony Nash to save well soon after when put through by Conor Ryan. A long clearance by Nash found Daniel Kearney who forced Patrick Kelly to make a splendid save. Cork forced a close in free and Anthony Nash's effort was saved by Kelly and Clare were still two points clear, 0-6 to 0-4. Impressive Padraic Collins was fouled and Colin Ryan made it 0-7 to 0- 4. In the 21st minute Clare edged double scores ahead when Conor Ryan and Padraic Collins combined well for Conor McGrath to send over. Cork again rallied Darach Honan was denied a good goal scoring chance by Anthony Nash and Pat Horgan pointed another free. Clare regained the 4 point cushion from a free by Colin Ryan. Cork were relying on Patrick Horgan for scores and his 26th minute free had the lead down to 3 once more, 0-9 to 0-6. A minute later Padraic Collins struck a marvellous point and when Brendan Bugler was fouled and Colin Ryan pointed Clare were ahead by 5 points for the first time. However, Cork again rallied well. Lorcan McLoughlan was fouled and Horgan pointed in the 30th minute. At this stage Clare had just 3 wides while Cork had none. Good work by Seamus Harnedy led to a Daniel Kearney point. Coming up to the break Tony Kelly struck a fine Clare point but Brian Murphy replied for Cork after good work by Patrick Horgan and Lorcan McLoughlan, 0-12 to 0-9. Clare were off target by Colm Galvin. A long range Cork free by Nash found Pa Cronin who was denied by Patrick Kelly. A long range point by Patrick Horgan left just two between them at the break, 0-12 to 0-10.
On the resumption Clare's Tony Kelly made it a 3 point advantage. They were four clear in the 37th minute when Colin Ryan pointed another free. Cork's first goal came in the 39th minute when Conor Lehane made a great run along the flank and gave Patrick Kelly no chance from close range. Clare recovered well with two points while Patrick Horgan added another free that had the lead at 2 points for Clare, 0-16 to 1-11 entering the 43rd minute. Daniel Kearney closed the gap but it was Clare who came back strong. First Darach Honan put Colin Ryan through only to be denied by Anthony Nash. Good work by Patrick Donnellan led to a Conor McGrath point. Cork introduced Cathal Naughton but Clare edged 3 points clear in the 50th minute when Tony Kelly gained possession from a sideline and placed John Conlon who sent over, 0-18 to 1-12. A minute later Clare added another pointed free. Seamus Harnedy and Colin Ryan exchanged a point before another Clare free had them 5 points clear for the second time, 0-21 to 1-13. Anthony Nash (free) and Patrick Cronin had a goal each for Cork that levelled 0-23 to 3-14 with 7 minutes to go. The last remaining minutes were tension packed. Colin Ryan pointed another free with Patrick Horgan levelling (free) in the 66th minute. It was Horgan's 9th point. Conor McGrath was wide for Clare with Tony Kelly also off target. In the 70th minute Cork took the lead for the very first time when a sideline by Christopher Joyce was gathered by Horgan who sent over. Cathal Naughton made a good solo run but Patrick Kelly cleared. Cork could have sealed victory but Stephen Moylan's sideline went narrowly wide. Deep in injury time Clare had one last attack. Patrick O'Connor and Nicky O'Connell worked well for corner back Domhnall O'Donovan who scored a great point which was followed by the final whistle. The replay takes place on Saturday September 28th in Croke Park with a 5pm start.
Scorers for Cork: Patrick Horgan 0-10 (0-8f), Conor Lehane 1-1, Anthony Nash 1-0f, Patrick Cronin 1-0, Seamus Harnedy 0-2, Daniel Kearney 0-2, Brian Murphy 0-1.
Clare: Colin Ryan 0-12 (0-11f,) Padraic Collins 0-3, Tony Kelly 0-3, John Conlon 0-2, Conor McGrath 0-2, Darach Honan 0-1, Conor Ryan 0-1, Domhnall O'Donovan 0-1,
Cork: Anthony Nash (Kanturk), Stephen McDonnell (Glen Rovers), Shane O'Neill (Bishops-town), Conor O'Sullivan (Sarsfields), Brian Murphy (Bride Rovers), Christopher Joyce (Na Piarsaigh), William Egan (Kilbrin), Lorcan McLoughlan (Kanturk), Daniel Kearney (Sarsfields), Seamus Harnedy (St Ita's), Jamie Coughlan (Newtown-shandrum), Patrick Cronin (Bishopstown), Luke Farrell (Midleton), Patrick Horgan (Glen Rovers), Conor Lehane (Midleton). Subs: Stephen Moylan (Douglas) for Jamie Coughlan, Cian McCarthy (Sarsfields) for Lorcan McLoughlan, Cathal Naughton (Newtown-shandrum) for Cian McCarthy (inj), Tom Kenny (Grenagh) for William Egan, Stephen White (Ballygarvan) for Daniel Kearney.
Clare: Patrick Kelly (Inagh-Kilnamona), Domhnall O'Donovan (Clonlara), Cian Dillon (Crusheen), David McInerney (Tulla), Brendan Bugler (Whitegate), Patrick O'Connor (Tubber), Conor Ryan (Cratloe), Patrick Donnellan (O'Callaghan Mills), Colm Galvin (Clonlara), John Conlon (do), Colin Ryan (Newmarket on Fergus), Tony Kelly (Ballyea), Padraic Collins (Cratloe), Darach Honan (Clonlara), Conor McGrath (Cratloe). Subs: Cathal McInerney (Cratloe) for Darach Honan, Fergal Lynch (Clooney-Quin) for John Conlon, Nicky O'Connell (Clonlara) for Colm Galvin.
Referee:Brian Gavin (Offaly)
Footnote
Last Sunday's All Ireland SHC Final was only the third time ever Cork were involved in an All Ireland SHC draw. In 1902 Cork and Dublin played a draw in Tipperary Town in what was known as the 'Home' Final. That All Ireland Final was played on July 3rd 1904 and finished 1-7 each. Cork won the replay again in Tipperary Town by 2-6 to 0-1.
In the All Ireland Final proper Cork beat London by 3-13 to 0-0.
In 1931 Cork and Kilkenny drew twice. The first meeting on 6th September in Croke Park finished all square at 1-6 each. The replay on October 11th was also deadlocked at 2-5 apiece. In the 2nd replay Lory Meagher was missing for Kilkenny through injury. Cork won by 5-8 to 3- 4. The only other All Ireland Senior Hurling Finals to be drawn were Waterford v Kilkenny in 1959 and Kilkenny v Galway last year.