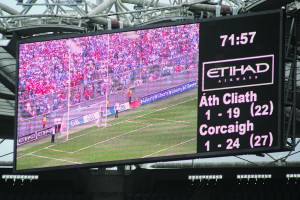 Cork………………………………………………………1-24
Dublin……………………………………………………1-19
Cork, after losing their last 3 All Ireland SHC semi finals to Kilkenny in 2008 and 2010 as well as defeat at the hands of Galway last year, got back on the winning track with a five point win over Dublin on Sunday in Croke Park before an attendance of over 62,000. The sides had not clashed in an All Ireland SHC semi final for 85 years, not since 26th August 1928 when the Rebels beat Dublin in Nowlan Park by 5-3 to 0-2.
Sunday's semi final was top drawer with 45 scores over the 70 minutes in a game that had 19 different scorers and they were level on a record 15 occasions. In the opening seconds Danny Sutcliffe opened with a Dublin point. Patrick Horgan with a free levelled. Cork edged in front by Conor Lehane. In the 4th minute Lehane placed his Midleton clubmate Luke O'Farrell for a fine point. Paul Ryan pointed a free for Dublin after a foul on David O'Callaghan. The Leinster champions forced level in the 8th minute when Paul Ryan worked well for David O'Callaghan who pointed 0-3 each. Dublin hit the front when Ryan O'Dwyer and John McCaffrey worked well for Conal Keaney to point. Lorcan McLoughlan had a brilliant point in the 10th minute and he gave Cork the lead with another a minute later. Dublin had a pointed 65 by David O'Callaghan, but Lorcan McLoughlan, who was in great form at midfield, gave the Rebels the lead once more with a fine point. It was point for point with the sides level 0-6, 0-7, and 0-8 by the 19th minute. Both sides were off target. Dublin intro-duced Shane Durkin. Cork had a point by Seamus Harnedy with Dublin's David Treacy being denied a good goal scoring chance by Anthony Nash.
Durkin was off target with Cork's Luke O'Farrell setting up Conor Lehane for a point. Dublin replied again by David O'Calla-ghan. In the 29th minute a foul on Jamie Coughlan led to a Pat Horgan pointed free. Dublin had their goal in the 29th minute when a good run by Paul Ryan from the corner placed David Treacy who netted from close range. The sides were level a minute later when Horgan pointed another free 1-9 to 0-12. Dublin edged ahead when John McCaffrey struck a fine point. Cork levelled when Patrick Cronin gave a good pass to Seamus Harnedy who pointed and they were now deadlocked again. Dublin took the lead again when a foul on Conal Keaney saw Paul Ryan make no mistake from the free. Patrick Cronin had a brilliant Cork point that had them level for the 10th time in the first half. In injury time Daniel Kearney gained possession from a poor Dublin clearance and he pointed giving the Rebels an interval lead of 0-15 to 1-11.
Early in the second half a free by Paul Ryan picked out Ryan O'Dwyer who sent over. In the 39th minute a long range free by Anthony Nash sailed over and it gave Cork the lead and a huge lift. Dublin however were quick to reply. Ryan O'Dwyer and Danny Sutcliffe combined well for Shane Durkin to point. In the 4lst minute Cork were off target but a well placed puckout by Gary Maguire picked out Conal Keaney who passed to Sutcliffe who struck a fine point. Ryan O'Dwyer cut through from 50 yards and his powerful shot at goal was well saved by Anthony Nash. Dublin set up an attack involving Joey Boland and Ryan O'Dwyer with the latter being fouled and Paul Ryan made it 1-15 to 0-16.
Patrick Horgan (free) and Conal Keaney exchanged a point with Luke O' Farrell closing the gap in the 48th minute 1-16 to 0-18. Dublin lost Ryan O'Dwyer to a second yellow card in the 49th minute and this was a major turning point. Anthony Nash levelled with a long range free. Jamie Coughlan edged Cork ahead but Dublin's Shane Durkin was on hand to place Danny Sutcliffe for another point with just 15 minutes remaining. Pat Horgan edged Cork ahead with a free with Dublin staying in touch with a Paul Ryan free.
Dublin missed a few frees and Anthony Nash with his third pointed long range free opened up a lead of 0-23 to 1-18. Pat Horgan sealed the victory with a 66th minute goal to make it 1-23 to 1-19. Both sides introduced substitutes and time ran out with Cork having a late point to record a five point win.
Scorers for Cork: Pat Horgan 1-7 (0-5f), Conor Lehane 0-3, Lorcan McLoughlan 0-3, Anthony Nash 0-3f, Seamus Har-nedy 0-2, Luke O'Farrell 0-2, Jamie Coughlan 0-1, Daniel Kearney 0-1, Patrick Cronin 0-1, Stephen Moylan 0-1.
Dublin: Paul Ryan 0-6 (0-5f, 0-1 65), David Treacy 1-1, Danny Sut-cliffe 0-4, David O'Calla-ghan 0-2, Conal Keaney 0-2, John McCaffrey 0-1, Joe Boland 0-1, Ryan O'Dwyer 0-1, Shane Durkin 0-1.
Cork: Anthony Nash (Kanturk), Stephen McDonnell (Glen Rovers), Shane O'Neill (Bishops-town), Conor O'Sullivan (Sarsfields), Tom Kenny (Grenagh), Christopher Joyce (Na Piarsaigh), William Egan (Kilbrin), Lorcan McLoughlan (Kanturk), Daniel Kearney (Sarsfields), Seamus Harnedy (St. Ita's), Jamie Coughlan (Newtownshan-drum), Patrick Cronin (Bishopstown, capt.), Luke O'Farrell (Midleton), Patrick Horgan (Glen Rovers), Conor Lehane (Midleton). Subs: Stephen White (Ballygarvan) for Tom Kenny, Cathal Naughton (Newtownshan-drum) for Jamie Coughlan, Stephen Moylan (Douglas) for Conor Lehane, Robert O'Shea for Lorcan McLoughlan (inj) (blood)
Dublin: Garry Maguire (Ballyboden St. Enda's), Niall Corcoran (Kilmacud Crokes), Peter Kelly (Lucan Sarsfields), Paul Schutte (Cuala), Stephen Hiney (Ballyboden St. Enda's), Liam Rushe (St. Patrick's Palmerstown), Michael Carton (O'Toole's), John McCaffrey (Lucan Sars-fields, capt.), Joseph Bol-and (Na Fianna), Conal Keaney (Ballyboden St. Enda's), Ryan O'Dwyer (Kilmacud Crokes), Danny Sutcliffe (St. Jude's), David O'Callaghan (St Mark's), Paul Ryan (Ballyboden St. Enda's), David Treacy (Cuala), Subs: Shane Durkin (Ballyboden St. Enda's) for Stephen Hiney, Simon Lambert (Ballyboden St. Enda's) for Michael Carton, Mark Schutte (Cuala) for David Treacy, Ruairi Traynor (St Vincent's) for Paul Schutte.
Referee: James Owens (Wexford)