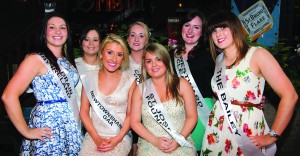 The Cork Rose Centre is delighted to have St Joseph's Foundation, Charleville and COPE as the charity partners of this year's selection. Those attending the selection on the 21st and 22nd of June will have an opportunity to support a raffle on both nights with all proceeds going directly to these two very worthy charities. Meanwhile, some Rose applicants came together last weekend to organise a fundraiser in Charleville where €1024 was raised in total for the two charities. "We are delighted to be able support such worthy causes as part of the Cork Rose Selection" said Denis Griffin Coordinator of the Cork Rose Centre. There is still time to enter and help support such great charities while having lots of fun but hurry as closing date is fast approaching. Call/text 0871474100 or email corkrosecentre@yahoo.com for more info. 
Gathering over 5 Decades of Cork Roses and Escorts at The 2013 Cork Rose Selection.
As 2013 marks the year of The Gathering, Cork Rose Centre is participating at a local level by inviting all  Cork Roses and Escorts from previous years back to the final night of the Cork Rose Selection at 7.30pm on June 22nd at the Silver Springs Moran Hotel. Cork Roses and Escorts from over the last 50 years are asked to contact the Cork Rose Centre if they and a guest are available to attend.  The night promises to be a very entertaining event for all, with Rose applicants from all over the county participating in the hope that they will follow in the footsteps of 2012 Cork Rose Brid Ryan and all other Cork Roses. "We hope that many Roses and Escorts from previous years can attend – it will give a great sense of occasion to the event – to have the ambassadors who have represented Cork over the years together in one location" said Denis Griffin, Cork Rose Centre Coordinator. Cork Rose Centre can be contacted by calling 087 1474100 or by emailing corkrosecentre@yahoo.com. Meanwhile, it's not too late to apply to take part in this year's event – Application forms are still available but hurry – deadline is fast approaching. Any further enquiries to the Cork Rose Centre on the above contact details.